Cookoo SmartWatch, simple and elegant
Cookoo SmartWatch, simple and elegant
Cookoo is not a new watch; it has been on the market for some time. However, it remains a very interesting choice of smart watch. It is a simple and elegant analogical watch, which includes the option to receive notifications from our smartphone.
Notifications appear on the screen as icons, and it can notify us when we have a call, a message, a notification from Twitter, an SMS, some alarm, or anything else that we configure.
The Cookoo SmartWatch connects via Bluetooth 4.0, Bluetooth Smart and Bluetooth Low Energy, and it is compatible with iOS and some Android models through Cookoo Life app, whitch can be downloaded from the App Store and the Google Play respectively.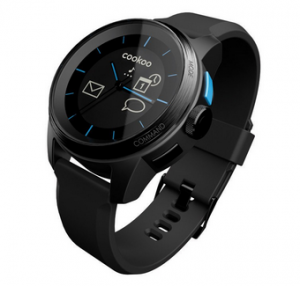 However, connectivity fails with some devices, especially Android, something that somewhat limits the number of potential users. It works on iPhone 4S and iPad third generation onwards, in several models of Samsung Galaxy Note, S4 and HTC One. If we are not sure about its compatibility with our smartphone, we should first be sure about it, or we can be very disappointed.
Although the watch is mainly used to provide notifications, we can also perform some additional functions, like shooting photos, controlling music or ringing an alarm to locate the phone if I have lost it not far away.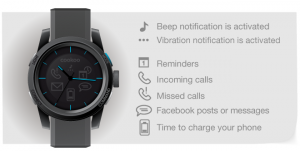 The glass is resistant to hits and scratches and is made of stainless steel and plastic with a silicone strap. It is waterproof and resistant to 5 ATM of pressure. We can choose between six colors: pink, blue, white, black, silver and green, the latter a special edition more expensive than the others.
However, one of the highlights of Cookoo SmartWatch is the battery. It is powered by a button cell battery that can last up to a year (or even 3 years if we only use the clock).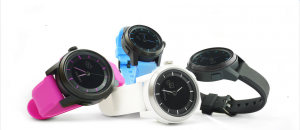 You can purchase the Cookoo for 129.86€ the standard models or 249.74€ the special green edition.