Casio Expands the G -Shock Family
Casio Expands the G-Shock Family
For the last years, Casio has been offering watches able to communicate via Bluetooth with some smartphones. This year, the company has expanded its offer with two new models, the GB- GB- 6900B and X6900B.
These watches follow the style of the company, and they are available in various colors. They are very hardy and, depending on the model, they can endure all kinds of exercise, including immersions up to 20 bar (200 meters).
It synchronizes with mobile phones using Buetooth 4.0 LTE, which allows great savings in the battery. In these watches of the Casio's G-Shock family, the battery lasts about two years with the Bluetooth working 12h days.
The clock is intended as a supplement of the smarphone. Its main mission is to tell the time, and it also includes a small screen that displays phone notifications, such as the mails received and the incoming calls. When we receive a call, the watch will light while if the receive mail us the sender's name appears on the screen.
Thanks to synchronization with the GPS, the time is automatically adjusted if we change the time geographic area. As the watch syncs with our smartphone, we can receive notifications about scheduled meetings, birthday announcements, scheduled appointments, etc.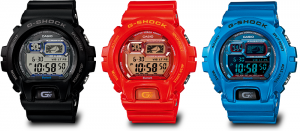 The watches in the G -Shock family are built with resin and hard mineral glass, so they are very resistant to impacts and scratches.
The weakest point of Casio's G -Shock watches is the compatibility. They are compatible with a few models of iOS and Android devoces, and we must check that the model we choose will work fine with our smartphone. According to the company, the compatible models are the iPhone 4s, 5, 5c, 5s; Samsung Galaxy S3, S3 mini; Samsung Galaxy Note 3; Samsung Galaxy S4, S4 mini; HTC One, HTC One mini.
You can buy a Casio G-Shock at the official store for a price that varies between $180 and $200, depending on the model.
More at Casio.