Casio enters the smartwatches market and this is its first Android Wear
Casio has always been one of the most important brands of watches and finally decided to take the plunge with Android Wear. CES 2016 was the place chosen by the brand to introduce the Casio WSD-F10, a smartwatch aimed at a very specific audience due to a number of peculiarities. Under the name of WSD-F10, this brand known all over the world, presents its first intelligent watch in its history. The device will run on Google's operating system for wearables and will target those consumers who like outdoor sports.
The WSD-F10 is oriented to those who practice adventure sports, so Casio has decided to implement a series of sensors to help us in these situations, such as compass, accelerometer or specially adapted for sports barometer "outdoors" as trekking, cycling, fishing, climbing or hunting. This device has been certified by the United States Army, so it is highly resistant and can be immersed to a depth of 50 meters.
Once the design is in line with the company, particularly the G-Shock models. We find a somewhat larger device than the smartwatch to which we are accustomed to see: it weighs 93 grams and its dimensions are 61.7 mm x 56.4 mm x 15.7 mm thick. The circular screen is 1.32 inches and has a resolution of 320 x 300 pixels. To navigate between functions it has four buttons, three of them located on the right side of the watch and a fourth on the left. The latter is responsible for switching between different sensors. Since the company say that the battery will last about a day and a half. Moreover, in point of connectivity we find Bluetooth 4.0 and Wi-Fi Connectivity.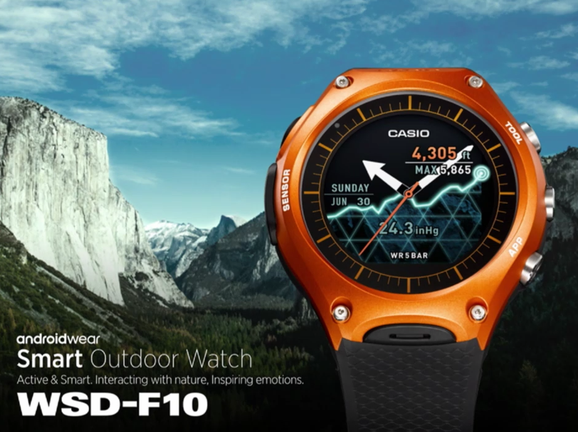 The WSD-F10 will have two display modes. The first mode is the normal mode we see in any Android Wear and the second mode is a mode in black and white, according to the manufacturer, with a battery life that would last up to a month. Casio watch is intended for outdoor activity and it shows in its various sensors that is able to measure air pressure, altitude, sunrise and sunset, compass, etc.
Casio has confirmed that the watch will be available in April of this year, but has not mentioned anything about in which countries will be available. Its price will be around $ 500, which is somewhat expensive when compared with the current Android Wear devices, but also keep in mind that it has unique characteristics and is intended for a very specific audience.
Casio enters the smartwatches market and this is its first Android Wear