Blocks have a new look and more features
Modular devices are more fashionable than ever. From the first idea of Phoneblocks project, other companies have followed its path. Blocks has focused its efforts on designing a smart watch completely customizable.
Now the company has announced a redesign of its modular smart watch, and a broadening of its possibilities thanks in part to the possibility that developers begin to create their own proposals. And in this case, those are not limited to creating apps, but the company is also open to the possibility that third parties can also create their own blocks.
The project is very attractive because it allows the creation of fully customizable smart watches with the exact specifications we need and the ability to replace any damaged parts without having to buy a new device.
Each element of the smart watch, from memory to the altimeter or the camera is included in one block. These blocks are linked together to form the smart watch's strap and we can choose to configure the device we want. We can even choose the type of screen, touch screen or e-ink, and it style, square or round.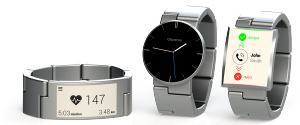 Last week the company presented the result of redesigning the device and also showed the first prototype running. However, it also announced that it will not be ready within a year as it is just now beginning the process of miniaturization to achieve sizes suitable for a smart whatch.
The project promises to be interesting and thanks to the current increasing interest in wearable technology, sure we'll hear a lot about these Blocks. The company claims that it is in contact with companies like Intel and Google, to ensure that the project sees the light.

If you are interested, you can take a look at their website, where you will find some examples of possible configurations for the smart watch. For example, for a setting focused on business, we can join the block touchscreen (includes processor, Bluetooth and battery), with microphone, contactless (NFC / RFID, to access sites and pay without card), SIM card, fingerprint scanner and USB memory. But if we want a configuration more focused on adventure, we can choose an e-ink screen (the module includes the processor, bluetooth and battery but consumes much less than a touchscreen), an extra battery, environmental sensors (temperature, altitude and pressure), GPS and flashlight flash.
If you are interested in the proposal, you will find a full list of modules currently proposed, but it is expected that the list expands when other manufacturers begin developing their own proposals.
For more information, consult their website.