Best Bluetooth keyboards case for iPad
Best Bluetooth keyboards case for iPad
If you normally do a lot of typing on you iPad, probably agree that a physical keyboard is a must. The most practical choice these days is select a good case with a built-in Bluetooth keyboard. This way, you protect you iPad when you are on the go and anytime you need to do a serious typing, you have a nice keyboard available.
This brings us to the next question. Which is the best Bluetooth keyboard currently on the market? Well, as always, the answer is not so simple. Here there are a few good ones, which can be also used with an iPhone or and iPod touch too.
Kensington Keyfolio Expert Multi Angle Folio & Keyboard. Price: £70 GBP / $100 on Amazon.
A multi-angle stands that can fit all the iPad models. It's good in terms of functionality, but it's basically a hard robber folio that can be assembled with the keyboard on one end.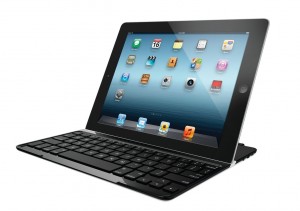 Photobox Personalised iPad Photo Case. Price: £50 GBP / $80 on Amazon
This shell case fits onto iPad 2 or later and it's made from lightweight aluminium. The point here is that you can customize it. Photobox allows you to personalize it with the photo of your choice on the other side.
Archos Bluetooth. Price: £59.99 on Archos website
This is a low cost super thin keyboard that fits onto iPad 2 or later. The only weak point is the support, which is not the most stable option available.
Scosche Keypad iPad Case With Keyboard. Price: £70 GBP / $80 on Amazon
This is the perfect solution for business. The leather folio is protective and includes a long kickstand. The only drawback here is the keyboard itself, which is not as good as others.
Belkin Ultimate Keyboard Case. Price: £100 GBP / $100 on Amazon
It's expensive, but for a reason. It charges via USB, has a smart cover and includes three angles of keyboard position.
Logitech Ultrathin Keyboard Cover. Price: £70 GBP / $100 on Amazon
The cover wakes and sleeps your iPad when opening and closing. It's though and allows USB charging. It comes with different colors.
Source: TechRadar.