Baldur's Gate: Enhanced Edition is available for tablets
Baldur's Gate: Enhanced Edition is available for tablets
The remasterized classic of the RPG games has come to mobile devices. Baldur's Gate was one of the top RPGs games of the time and now Overhaul Games has completely adapted the title to touch screens devices.
The game has kept the original aesthetic and soundtrack. In this new title the company has maintained the essence of the original game, and the adaptation to touch screens devices is fairly well achieved.
Like other RPG games, we begin the story with a basic level character who will gain experience and skills as we advance through the game. We'll have to put together a team to progress along the story, beating countless enemies in an adventure with a good story that will get us from the start. As in the original game, the story is also set in the Forgotten Realms.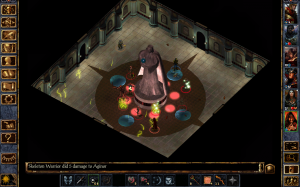 Unlike the previous version, this time we have all the characters from the beginning, so that we can choose not only between Thief, Fighter, Bard, Cleric, Druid, Paladin, Ranger, Mage and specialized Mage, as it happened in the original title but we also have specialized classes available: Clerics, Warrior Monks, Knights, Wizards or Barbarians, among others.
The game is available for iOS, Android and PC, and it has a cross-platform multiplayer mode, so it will not be difficult to find partners who play with. The mobile version costs $9.99, includes more than 60 hours of play and comes with two expansions of the original game. However, due to the complexity of the graphics, it requires at least a 5-inch screen to play. The only negative point is that it includes in-app purchases to unlock some features and characters, an aspect that has much less weight in the PC version.

Currently it is only available in English, although future updates will provide translations to other languages. You can download Baldur's Gate Enhanced Edition in the App Store and Google Play respectively.
Source: Meristation.