Asphalt 8: Airborne, free for iOS and Android
Asphalt 8: Airborne, free for iOS and Android
Motor enthusiasts already know the popular Asphalt saga. Last summer reached the market the eighth version, Asphalt 8: Aribone, and now you can download it for free both iOS and Android releases.
The famous racing game from Gameloft is back with a version more exciting than ever. It is based on aerial acrobatics, with exaggerated circuits that include ramps, barrel rolls, wild 360º jumps and even loops that we need to use to beat our rivals.
The game features 47 cars based on the best models in the world, such as Lamborghini Veneno, Bugatti Veyron, Ferrari FXX and Pagani Zonda R, among others. We have 180 events in circuits located in 9 different settings, such as Venice, French Guiana, Iceland, the Nevada Desert and even the Barcelona's harbor! Scenarios are incredibly detailed, and include shortcuts and interactive elements that turn every race in a completely new experience.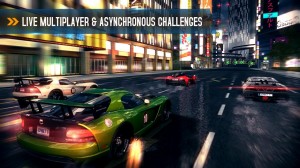 With each race, we obtain credits that we can invest in improving our car's performance or buy new one. Although over time we can unlock all the options, there is also the possibility to buy some in-apps for immediate access to upgrades or circuits, or to overcome some particularly difficult race.
There are several modes available, like classic races, infection, Knockdown, gate drift and multiplayer mode up to 8 players. The controls combine the use of tactile icons with accelerometer, and sometimes you can go for an automatic acceleration or some other adjustments. You will need to modify slightly the sensitivity of the tilt controls to find the correct balance between precision and efficiency, to get the best result. The overall control works really well and gets along with extremely realistic scenarios, resulting in an amazing experience to play. Sound effects and music are up to the game, with three styles to choose from: rock, bass and electronics.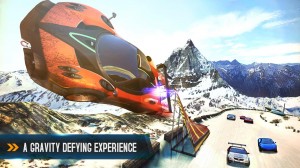 You can download Asphalt 8: Airborne from the App Store or the Google Play.
Source: Meristation.