Archos announces the GamePad 2, its second generation of gaming-tablet hybrid.
Archos announces the GamePad 2, its second generation of gaming-tablet hybrid.
Archos has announced the release of its second generation tablet designed for Gamers- the Archos GamePad 2. This gaming-tablet hybrid includes all the features needed to play in HD in a 7 inch widescreen with 1280 x 800 pixels resolution. It 2 runs Android 4.2 'Jelly Bean', with all the mobile services application provided by Google (such as Gmail, YouTube, Chrome and Drive).
The improvements of this second version include an A9 generation quad-core processor (1.6 GHz), 2 Gb RAM, 8 Gb or 16 Gb capacity (with microSD slot) and extra-large battery (50% larger than a conventional 7'' tablet battery). The dual thumb-sticks are curved, and a single part directional pad and double buttons on the upper part have been added. These features together with the overall enhanced feeling of all the buttons promise a great gaming experience.
The Archos GamePad 2 maintains its sleek and portable style. This tablet weights less than 400g and is small enough to fit in your pocket and game comfortably. Gameloft has joined Archos to include two of its latest full premium games designed specifically for physical controls on the GamePad 2. The games included are Asphalt 8 Airborne and Modern Combat 4: Zero Hour. Both Android games are the latest versions available and include amazing quality graphics and online playing modes.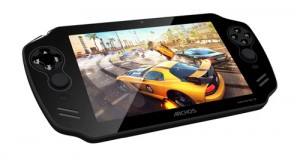 Apart from these specifically designed games, any touch-screen button game can work with the physical controls of the Archos GamePad 2. This is possible thanks to the Game Mapping Tool, preinstalled in this second generation table, which allow the easy adaptation from touch-screen games to physical controls. This opens a wide range of new experiences for a huge amount of free and paid android games. Lots of compatible games can be downloaded in the Google Play Store, where any user can find the most purchased, rated and commented games available. More information at www.archos.com .