Apple Music is already among us with its Android version
Since yesterday, Android users have the opportunity to download the application Apple Music by Apple. For now, this is a beta version, but comparing with the app for iOS, so there's no significant differences in the interface or in the options offered.
As for new users, you should know that only for downloading Apple Music and log in you enjoy 3 free trial months. You must introduce the details of your credit card and choose the individual plan (of $ 4.99 per month). After completion of the evaluation period, Apple will charge the amount automatically to your payment. In the beta version for Android only you can choose the individual plan. If the user wants to purchase a family plan, Apple Music must be a version for Mac or iOS device. For starters, the platform prompts you to show your musical tastes. Select specific genres and groups that help the system to provide a selection of music that suits your interests.
Apart from that, the app is divided in 6 sections. Although it arrives in beta version, it is now available in the Google Play store as other applications for all users of Android, with the name of Apple Music version 0.9.0. Disadvantages of signing right now, in beta, are: To change the subscription from normal to family or vice versa, you need an iOS device. Videos are not yet available. Some users say they have had problems with the subscription. The biggest drawback of Apple is that Android provides users with many facilities and free apps for downloading and storing music.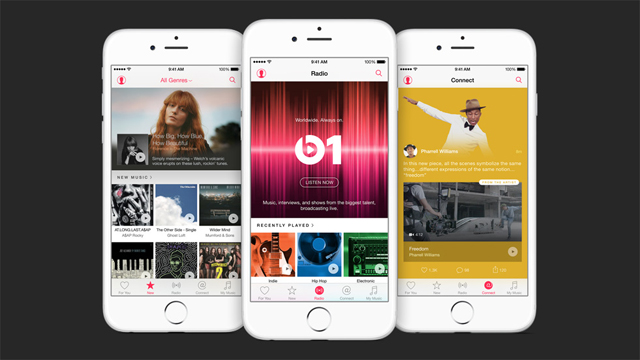 Unfortunately, Apple Music is a program of monthly payment only, in contrast with Spotify, for example. In its personal plan, you must pay a fee of € 9.99 and € 14.99 monthly depending on family plan. At least, you can subscribe with three free months to test the application, but giving your credit card details. We believe that it does not hurt to test the application and if you feel that not worth it, just have to cancel the subscription before the trial period expires.
Anyway, a recurring complaint is being that in the first tests, we find excessive consumption of data. For every five minutes of playback, the application spent between 25 and 30 MB. It is a very high figure. Spotify consumes 5 MB for every 5 minutes on average. At first glance, is the section that Apple should improve more.
Apple Music is already among us with its Android version