Android Wear 2.0 will separate smartwatch from smartphone
During the opening press conference of the Google I/O 2016, the version 2.0 of the Android Wear platform for wearable devices was announced. Android Wear 2.0 aims to finally make the smartwatch independent from mobile terminals, and can also work without being connected to a smartphone.
First of all, with this new version any smartwatch Android can connect independently to the Wifi network and the data network; but the most significant new feature is undoubtedly the ability to run applications installed without having a smartphone in the neighborhood (in fact, according to Google's statements, the demonstration on stage was made with the "twin smartphone" off). In addition, similar to those that Apple has defined as complications, new watch face for Android Wear will show information from any third-party app.
In the image shown below, in addition to the performance of the shares and the calories, you can see a small ToDoist widget: with a tap on the widget, it will open the corresponding application. It comes the automatic recognition of physical exercise, as well as synchronization with third-party apps and full support for Google Fit. In short, the update to Android Wear will take the advantage of the fitness aspects and customization.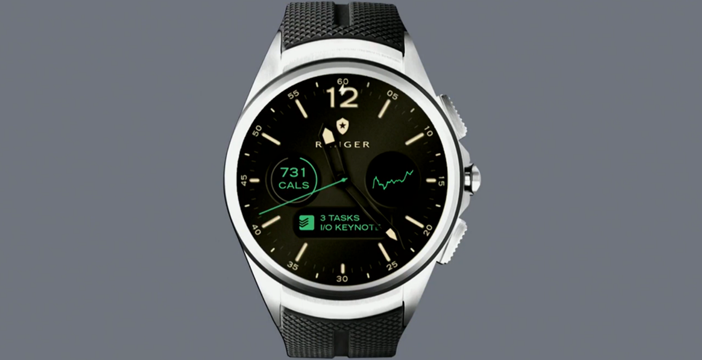 But it does not end there. Even the component of Messaging has been revised: automatic responses will be smarter and handwriting recognition and even a small keyboard that supports swipe have been introduced. Finally, similar to what was done for smartphones with Lollipop, the US company has released a guide for Material Design even for smartwatch, which covers aspects such as color, typography and icons.
Depending on the technical possibilities, the smartwatches with Android Wear 2.0 will connect to the Internet via Wi-Fi or through the cellular network. In Android Wear 2.0 no shortage of new issues which improve the user interface, design and applications. Android Wear 2.0 also introduces new modes of input and 'standalone applications'. Android Wear 2.0 has already been released as a developer preview and, at the moment, is only compatible with the LG Watch Urbane 2nd Edition and the Huawei Watch. Compatibility will be extended to other smartwatches with upcoming private developers previews. The final version of Android Wear 2.0 is expected in the fall.
Android Wear 2.0 will separate smartwatch from smartphone