Android Nougat will not run on devices with Snapdragon 800 and 801 CPUs
The new release of Android 7.0 Nougat has brought high expectations among users about the possibility to revolutionize the experience of use of their device, with the introduction of innovative features, but there is bad news: who owns an Android smartphone with a Qualcomm Snapdragon 800 processor or Snapdragon 801, may have to give up the idea of seeing their device updated to the latest version of Android, Nougat.
As suggested on Twitter by @LlabTooFeR, Qualcomm would have decided not to release updates to the graphics drivers for its Snapdragon 800 and 801: the consequence is that Android Nougat (which makes use of these drivers) will not be officially upgraded on devices equipped with chips Qualcomm Snapdragon 800 and 801. A choice that would prevent the use of Android 7.0 Nougat on the devices with these CPUs.
The selection of mobile devices that are designed with Snapdragon 801 and 800 are certainly large and among the most well-known devices that could be affected by the choice made by Qualcomm, there would be OnePlus X, Moto X (second generation), Sony Xperia Z3, LG G3, HTC One M8, Samsung Galaxy S5 and Samsung Galaxy Note 3, devices united by the fact that they were released on the market between 2-3 years ago.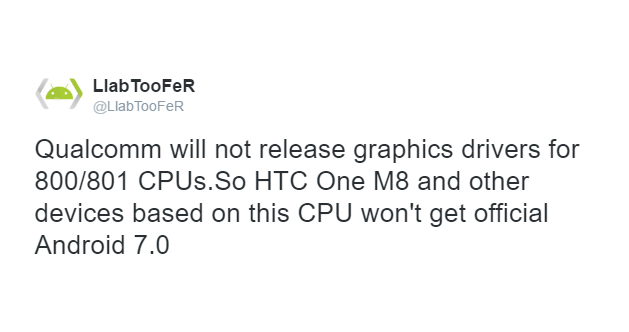 Previously, it had been expected that Nexus 5 would not be updated to Android 7.0 Nougat: in the light of these rumors, now, you can understand what are the reasons for a choice that might seem derived from Google and that, instead, it could be explained by the strategy adopted by Qualcomm affecting to a good part of Android users.
This does not mean that you can not get Android Nougat in older devices: you can use unofficial ROMs, which have already successfully brought Android Nougat on now officially abandoned smartphones. Anyway, we are talking about rumors and we will have to wait for official announcement, even though it seems really reliable.
Android Nougat will not run on devices with Snapdragon 800 and 801 CPUs