Android N will implement a new Emergency Info screen
Google has scheduled for next Android N an Emergency screen, which collecting all information about the user can serve in case of need. This new feature emerges from the preliminary version of Android N released last week for the benefit of developers.
In the section 'Emergency Info' you can enter not only your date of birth and address, but also the blood types, allergies or medical conditions and adherence to the organ donation program. All this information will be available in case of accidents or rescuers sicknesses, of course also when locked phone. A very useful and accessible information to all, that, in an emergency, can help rescuers or doctors to pay an initial rapid rescue. You can find this function going into settings > User, or by clicking on "additional steps" during the device configuration.
It is true that in Android 6.0 yo could see "info owner" that were displayed on the lock screen. Now this function is expanded with much more detailed information. This information will be visible simply by double tap on the "info" sources present in the device's lock screen.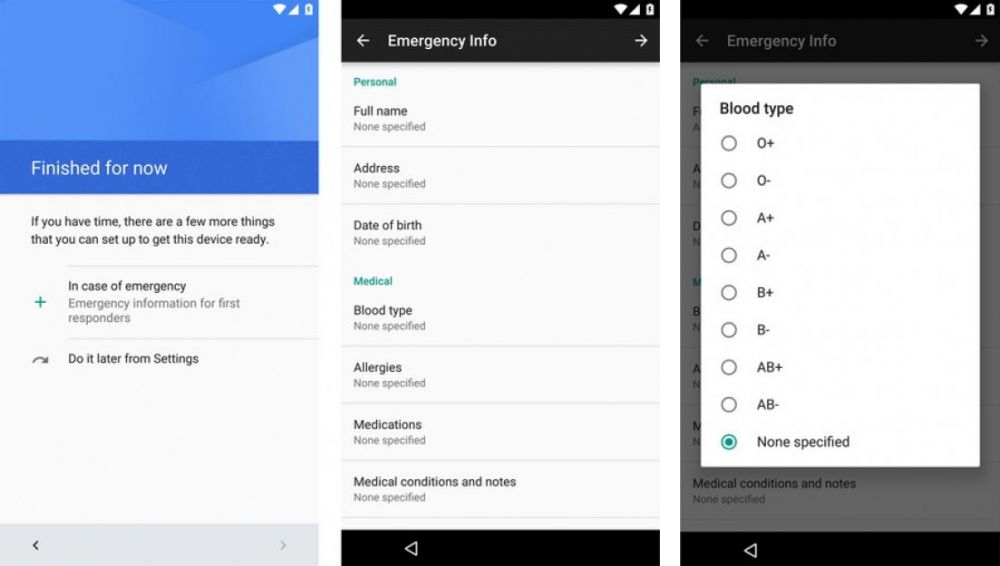 The Android N Developer Preview was released by surprise from Google in recent hours and in the sites dedicated to developers the "Factory Image" for Nexus 6P, Nexus 5X, Nexus 6, Pixel C, Nexus 9 and Nexus Player are already available. Unfortunately nothing about Nexus 5 most likely to be cut off by the update. The new release is also available over the air on the devices of those who are enrolled in the Android beta program.
Android N is an evolution of Marshmallow though, visually, the changes appear to be greater than the shift from Marshmallow Lollipop. In this release, Google has especially worked on the behavior of the system to optimize battery consumption, RAM usage and application performance. There is no lack of features that improve and speed up the use, in particular as regards to the system settings.
Android N will implement a new Emergency Info screen