Android Device Manager on the Play Store
Android Device Manager on the Play Store
A few months ago, Google launched the website Android Device Manager, where you could try to locate lost devices and delete its data. But surprisingly, there was no official application for Android to do those actions.
In a sense, this was logical … if you lose your phone, it will be useless to have an application installed on it that allows you to locate the device, is much more useful to use a website. However, the application does make sense when you have multiple devices, and can be located between them. In this framework, Android Device Manager becomes an interesting security tool for our Android devices. It has virtually the same functionality as the Find my iPhone app for iOS.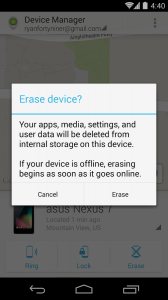 The application released today by Google allows us to do this without having to access the web. The app is designed to keep data safe on devices and it allows us both actions: we can empty the memory from a distance as well as locking the device remotely. It is done from the Device Manager, where you select the device in question, clicking "Block" and add or change the password to lock the screen. If we want the option available, we must have the last updated of Google Play Services and enable the Allow remote lock.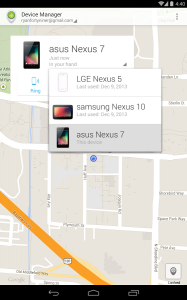 Google has also decided to add an element of humor to the app. If we track the position of the device itself, Google kindly informs you that it is "in your hands".
In addition, the app also includes a few more features like the possibility to see on a map the last position of our lost device or make it ring loudly. The device can be downloaded for free on the Play Store.