Amazon will release a smartphone in the coming months
Amazon will release a smartphone in the coming months
Amazon has long been working on aa Android phone and it seems that his arrival is imminent. According to several sources, Amazon will present its new device the next June, although it will not go on sale until a few months later.
Amazon wants to distinguish form the competence with its new phone betting on a unique technology. The most striking feature is a promising three-dimensional display that does not require the use of any glasses or other accessory.
This effect is achieved thanks to four infrared game cameras located the front corners of the device, which can track our position respect the screen and thus the imaging software can adapt the display to our position. Anyway, we still don't know for sure how it works exactly, or the final weight that this feature will have on the overall performance of the smartphone. Depending on the number of applications that can benefit from this technology, it could become a truly revolutionary feature or just remain as a technical detail without any real utility.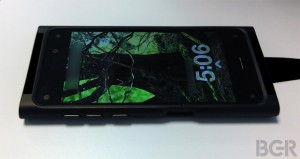 In addition, the phone will include a 13 MP rear camera and a front one, used in chats and with the Amazon customer service, Mayday. The device will carry a Qualcomm Snapdragon processor and it will include 2 GB of RAM. The screen will be 4.7-inch size with a resolution of 720p.
The company will also release a model with more basic characteristics, but it will be released later. Both devices work with Android OS, with the custom version of Amazon, FireOS, that also run its tablets.
There are still many details unknown that will probably be revealed during the coming weeks. So far, there is no information about the price, and it's probable that initially it will go on sale exclusively in the United States.
Source: RBG.
Via: The Verge.