Amazon Fire Phone is available for pre-order
Amazon Fire Phone is available for pre-order
Amazon has unveiled its first smartphone. This is a high end phone designed to take full advantage of all the services of the company. The device had raised much expectation due to some unique features, and the presentation looks like it has not disappointed.
Fire Phone has a 4.7-inch Gorilla Glass-protected screen with 1280 x 720 pixels, which gives a resolution of 315 ppi. The processor is a Quad-core Snapdragon 800 CPU running at 2.2GHz with Adreno 330 GPU and 2 GB of RAM. It is available in two models depending on the internal memory, 32 or 64 GB.
It has a 13 MP rear camera with f/2.0 aperture and OIS optical stabilizer. It can record videos in 1080p and 30 fps, and Amazon offers unlimited storage for our pictures on the cloud. Also includes intelligent HDR (High Dynamic Range), which activates or deactivates automatically to acquire images with the best possible contrast. The camera is launched directly with a button that can connect it even when the screen is off. The front camera is 2.1 MP, and it can also record videos at 1080p.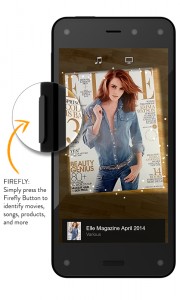 A part of these specifications, Fire Phone offers some unique features. Its highlights are the dynamic perspective, the Firefly technology and Mayday. Let's see in detail that this technology can offer.
Dynamic perspective
It offers a completely different way of interacting with a smartphone. We can navigate with one hand and browsing menus with gesture controls. The phone responds to tilt and swivel, and so we can move within a page or access the different menus without touching the screen.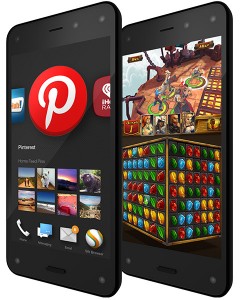 This is possible thanks to four sensors located on the front corners of the device, which control at all times the phone's position relative to our face. Thus, they can detect the slightest change in orientation and respond to our gestures. For example, we can read an entire book page sliding down without touching the screen, scrolling by slightly tilting the device.
With this same technology we can view scenes in perspective. Tilting the phone, we can see hidden objects at left and right, and we will have a feel of three-dimensionality. Amazon offers games and apps that take advantage of the possibilities of this vision with dynamic perspective, but to maximize the possibilities already been published the SDK code available to developers.
Firefly technology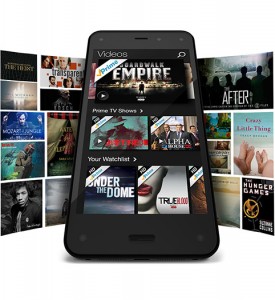 The Fire Phone is able to identify web addresses, phone numbers, or QR codes from images with just touching a button. Thus, we can identify anything that catches our attention and get all kinds of related information. For example, we can click on an actor's face while watching a series and automatically we will access to his information on IMDB, his filmography and the purchase or viewing options for the movies or series in which he has participate. Firefly works the same way for books and music, and can immediately recognize any song we are listening. Firefly recognizes over 100 million of different objects, and thanks to its shortcut button, it plays a leading role in the Fire Phone.
Mayday
Mayday is the online support service that we saw on the tablets. It is a free support service with an average wait time of 15 seconds that let as contact with an expert 24 hours a day 365 days a year.
Currently the Fire Phone is exclusive to AT & T and is only available in the U.S. from July 25. You can make a preserve on the web for $ 650 of for $199 with a contract.