All high-end LG devices will be updated to Android Marshmallow soon
Again and as usual in every major updated that we live about an Android version to another, many of us wonder every other day also when our device, whatever it is, will update to the latest release by Google version, in this case Android 6.0 Marshmallow, the same so far are enjoying "exclusively" new handsets as Google Nexus 5X and Nexus 6P.
We know that the South Korean manufacturer LG has improved a lot its updates policy in recent years, equaling and even going ahead of many other leading firms today, such as HTC, Samsung and even Sony. There is one detail of great interest for its users. A user like any other, from Italy asked the official Twitter account of the manufacturer in his language at what time the update is expected, which have responded and offered information.
Without further ado, LG has positioned itself and has said the update, obviously, and the work is underway to release as soon as possible. We can say that this may be a matter of days, weeks or even go to the first quarter of next year, which of course any of us want.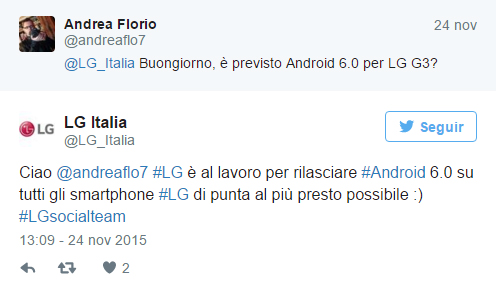 In any case, the manufacturer wants to release the update as soon as possible, because they get more relevance to the rest albeit temporarily and after all this the users, owners or not, appreciate very much. Nor they are dipped in mentioning which terminals updated, but it is logical that the first will be its flagship LG G4, after or alongside the LG G3 and then some of its variants in the market.
In particular and for the development of the brand Nexus 5X LG may somehow have an advantage Android 6.0 Marshmallow and will have in advance what is necessary to integrate this version to its layer of customization. Therefore, hopefully they are the first and its users, which are the main goal, to enjoy all the news.
All high-end LG devices will be updated to Android Marshmallow soon