Air Dock, a wireless charger for the car
Air Dock, a wireless charger for the car
Another interesting device introduced during the last CES in Las Vegas was an interesting car charger. The Air Dock uses the latest advances in wireless charging technology to recharge the battery of your mobile device while we are driving. This type of charge, called inductive, uses magnetic fields to transfer electricity, allowing recharge batteries without the need of wires.
The first thing you need is a reasonably good gripping system. Depending on the type of surface of the device we have, we can use a suction system or a magnetic adhesion. The first case is useful in a smartphone with a flat and glossy surface, such as the Galaxy S4 or the Nexus 4. When we put in phone charger, this remains fixed in place by a microsuction system that ensures it will not move during all the way.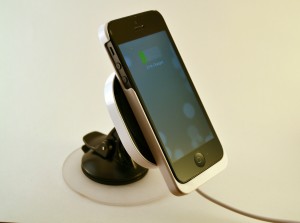 In case your device does not have this type of surface, the suction is not sufficiently effective, and this system does not provide the required stability. For these cases, the Air Dock incorporates magnets that secure the clamping function on such smartphones.
Once the phone is in place, it will automatically start charging through the Qi wireless charger built in the Air Dock. This is compatible with any smartphone that supports Qi wireless charging. Just bear in mind that, like most wireless chargers, this adapter requires a micro -USB 2.1A power adapter.
The project is part of a Kickstarter campaign launched by Indiegogo, with the goal of $ 60,000. This goal was exceeded and has currently reached $ 90,000. There are still 32 days of campaign, so if you like it and want to contribute, you can still do it in the project website.
Source: AndroidPolice.