Aerena – Clash of Champions has reached the Play Store
Aerena – Clash of Champions has reached the Play Store
After his debut on Steam, Aerena – Clash of Champions has reached the Play Store. It's a turn-based strategy game that will test our tactical capabilities.
We have the control of a pirate aircraft, and we will use it to challenge and fight other pirate ships. As we overcome rivals, we will gain experience and coins, which we can use to recruit new members to our crew or acquire better weapons for our battleship.
The battles with the other aircrafts take place on a square chess-like board. Three crew members are placed on the board and we need to plan our strategy carefully to defeat the rival crew or the ship. Each crew member has their own abilities, so we must adapt the strategy to the adversary we have.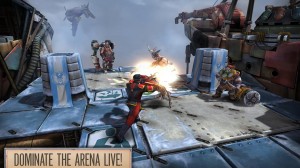 There are different game modes and we can fight against other real players in single combat or compete in a league with the incentive to win exciting prizes as we rise in the ranking. It also has a quick mode, where we have 10 minutes to defeat our opponent, forcing us to decide the best possible strategy without much time to consider the possibilities.
We may also earn coins and experience to complete the many challenges that the game offers. With these coins, we can visit the store to increase our crew members or to acquire more weapons, both for the ship and eht crew.
Aerena – Clash of Champions is available for free on the Google Play, but it includes in-app purchases if we want to obtain coins or experience faster. Currently, it is only available for tablets, though the company says it will soon come be able to smartphones.
Source: Jaygames.