How to install an Android app using an APK file
How to install an Android app using an APK file
APK files are used to install applications on Android operating system. There are many cases where we may need to install these files instead of using the Play Store, such as to install beta apps that are not yet available in the Google's store, to restore a backup we have of any application, or to install applications we have found somewhere else. We also may want to install games we purchased through a Humble Bundle, or apps downloaded from the Amazon App Store.
We always need to be careful when installing these files. The Play Store ensures its applications and games are totally reliable, but in the case of downloading APK files directly from other sources, we must be sure that the files do not contain any form of malware.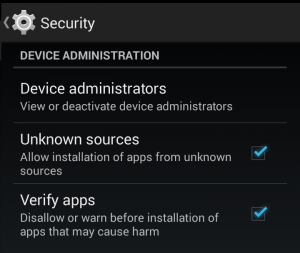 The first step is to download the file you want to install. It is advisable to do so whenever possible from its developer's website. Once we have the file, we just need to activate the device to enabled AKP file's installation.
How to activate the AKP file's installation from unknown sources.
To install an APK file, we need to have the "Unknown sources" option enabled. You will find it in the menu "Security" included in the "Settings" app.
Once this option has been activated, and we can install the APK files. To do this, we just need to look for the item and click on it to start the installation. APK files we can download to the PC and then transferred to your mobile device via Dropbox, for example.