How to watch sports online on Android
How to watch sports online on Android
Android has many applications to keep track of the results and development of all kinds of sports. Some show the results, statistics and extensive data on the development of the competition, while others also offer the possibility to see the live matches via streaming.
One of the most interesting apps is Libre Directo. It is an application that allows sports fans to follow all kinds of the most famous sports leagues. Furthermore, we can see live or recorded matches that interest us via streaming.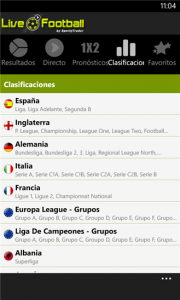 Libre Directo uses the links of the Roja Directa website, broadcastings worldwide sport events, free of charge and without requiring to left the application. We can see the Spanish Soccer League, the Champions League, the Premier League and the Bundesliga, among others. Furthermore, we can also access to other sports such as the NBA or NHL.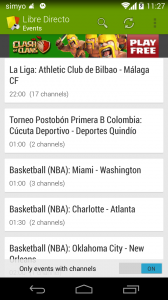 With this app we can watch for free a lot of sport events, both in the States and the rest of theworld. Can we find for a specific event or check the list of the most important ones scheduled. By selecting a match, we will see all the possible channels that transmit it and the speed at which it is offered.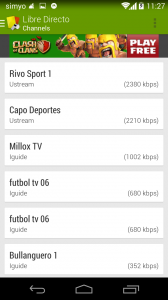 It should be noted that data consumption can be high, so it is extremely recommended to use this app with Wi-Fi, or we may consume our entire data plan quickly.
Libre Directo runs on smartphones and tablets, and it fits the format of the display device we have. The app is free and can be downloaded from the Play Store.