How to use Google Maps
How to use Google Maps
Google Maps is a very powerful tool that has become a basic application on any smartphone. It allows us to search addresses, shows walking and driving routes and also gives us information about the locals present in the area we are interested in.
When we access to Google Maps, we find the map, which we can move by dragging it in the direction we want, zoom in with a simple double click and rotate the view by circling two fingers on the screen. If we hold down on the point we want to go, we will see the option of selecting a transport (walking or driving) and it will show the detailed route to the selected destination.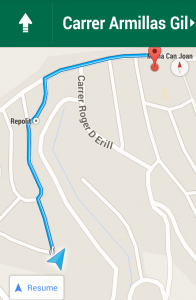 At the top of the map there is the search option, and in the lower left we can find a menu to display the traffic information, public transportation, or the option to use Google Earth.
From the Search menu, we can find any address or we can look for information about the different locals present in a given area. With this option, we can see a list of all nearby restaurants, petrol stations, or can easily locate the nearest post office.
If we consult the locals of a given area, Google Maps will display the results sorted based on both the proximity and the feedback from other users, from which we can see the reviews and comments.

We also have the option to view the maps offline. If we plan to repeatedly use the maps in a given area, we can download and save them to our phone, so we don't need to consume data every time we want to check an address or search for information about an itinerary.
This last option is very interesting in case we are going abroad. If we plan to visit another country, we can download the maps of the area using our home's Wi-Fi network, and we won't consume roaming data that would considerably increase our bill.