How to turn off the sound on Android multimedia Lollipop
Android 5.0 brings a lot of new features, including a new set of priorities to control the notifications and messages we receive.
With the priority system, we can silence calls and messages alerts, in a similar way as the silent mode worked in earlier Android versions. However, there are some important differences between them.
One of the most important, and potentially very annoying, difference is that when the priority mode silences messages, notifications and calls, it does not remove the multimedia sound. That can affect us or not, depending on the use we make of the device, but we can be faced with the surprising fact that we open a game and its soundtrack activates at full volume, even if we have the sound of notifications muted.
It was the same case in the KitKat's silence mode, where we have the volume for the phone and the media players operating independently of each other. That should not offer any problem, and in fact, it is very convenient because it allows us to configure the alerts with a different settings than the multimedia sound, that is, music players, video games and apps in general.
However, the option to mute the phone completely can be very handy, as we won't have to keep track of the music if we open a game, for example, in a place where we are not supposed to do any noise.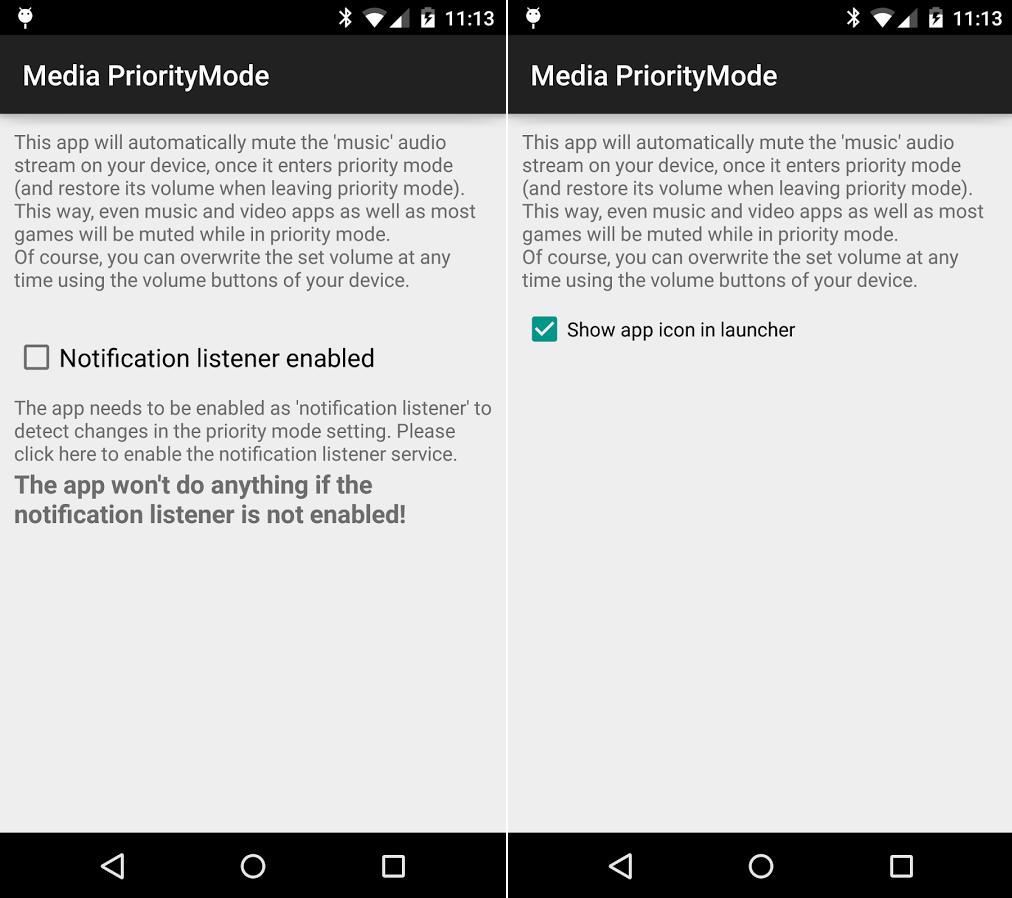 As this is an issue that affects many people, there is a free application that sets the volume of the "music" audio stream to 0, when we set the priority mode on the phone. In that case, we can only hear the alarms and the highlighted contacts.
The application is Media-Mute, and it is very simple to use. It is an app that automatically detects when we selected the silent mode (if we are using Android 4.x) or the priority mode (in Android 5.0) and automatically turns off the media volume.
Once we leave the silent or the priority mode, Media-Mute reconfigures the volume to the values it had before we used that mode. To activate the app, we just have to tick on the option available and the multimedia sound will automatically disappear when we set the the device in silent mode.
Source: Fandroides.