How to insert a screenshot into an Android
Screenshots are a very practical and interesting resource. They can be used to create manuals, to remember maps when we don't have a mobile data plan, to share information, or just to capture an image of what we have on our screen.
Making the screenshot is simple; we just need to press a certain combination of buttons (which in most Android phones is usually the volume down button plus the power one simultaneously).
However, sometimes it might be interesting to do something more with this screenshot. It may be the case that we need to prepare a presentation or we want to perform some demonstration and we need to include an image within the frame of the device we are using.
The simplest case is to use a Google tool called Device Art Generator. It is intended for using in a very simple and practical way, but it has a major limitation: it only works with Nexus devices. So if we have a Nexus tablet or smartphone, we are lucky, if we don't have any of these devices… then we can forget about this app. Luckily, this is not the only available on the market, and we can find other free apps that can perform the same task even using other Android devices.
If we don't have a Nexus device, we can try another app called Perfect Screenshot. It is an application that offers the same options as the Device Art Generator but it is not limited to a few Android models.
It is an easy app to use and in a few steps, we will be able to insert the screenshot in our display. We just have to follow these instructions: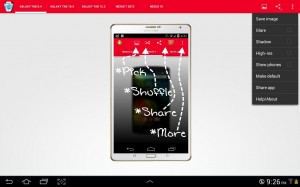 1. Use the square app icon to select the image we want to use.
2. Go to the photo app in our device and share the image using Perfect Screenshot.
3. Take screenshot and share it directly from the notification area.
It also includes several options, such as glare and shadow effects, the possibility to change the resolution or to choose between portrait or landscape view, among others.
Perfect Screecshot is compatible with the following devices: Samsung Galaxy (S3, S4, S5), Samsung Galaxy Tab (8.4, 10.5, 12.2), HTC One (M7, M8), LG (G2, G3), Motorola (Moto G, X), Nexus (4, 5, 7 (2013), 10), Samsung Galaxy Note (2, 3), OnePlus One, Razr and Sony Xperia (Z1, Z2).
Perfect Screenshot is a free app that can be downloaded from the Play Store.