How to delete apps on Android
Over the months, we accumulate many applications on our mobile devices that use only occasionally or don't use at all. These apps reduce the free memory and sometimes consume resources unnecessarily, as some of them can be running in the background.
They also requiere physical memory, either in the microSD card or in the internal memory of the device and usually, we don't have many to spare. Most mobile devices don't have a huge amount of storage capacity, so overloading the space with unnecessary applications is not a wise idea.
Removing a few applications is an easy task. Following these simple steps, you can uninstall any app that you no longer use.
How to remove apps
First we need to access to the list of applications, which will be found on the Settings menu. Once we have the app list, we can access any of them, and once we tab on any app we will see the possibility of moving it to the SD card (in case that we have it and we haven't done it yet), or delete it.
Thus, whenever we have an application that we no longer use, we can recover the space easily and efficiently. However, if we want to do a thorough cleaning of our device, checking the apps one to one can be quite a laborious task. To avoid this, there are some applications in Play Store that can help us to maintain the device in good conditions. Here there are some of them:
App Manager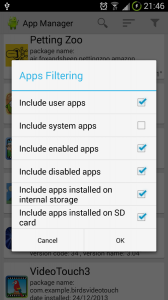 App Manager is an application that can be used to remove applications more quickly and efficiently. We can see a list of the apps installed, along with all the information regarding their version and installation date.
We can apply filters to display only one type of application (system, user, enabled, etc.), and we can only delete its data if we don't want to completely uninstall it.
App Manager has a desktop widget that can remove apps immediately. In addition, we can give it root permissions (we need to have the device rooted), so we can also remove system apps.
You can find App Manager in Play Store.
Clean Master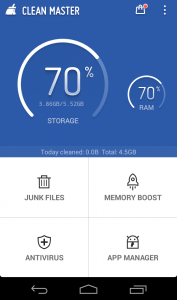 Clean Master is a complete app to optimize memory and delete files and applications. In addition to the complete removal of applications that no longer interest us, we can also clean the waste files generated as well as the cache. Doing so, we increase the available space by removing all these files that occupy memory, whether they are on the SD card or in the internal memory.
This app also removes the browsing history and other personal data, and can optimize the RAM memory by stopping applications running in the background. Except for removing system applications, it doesn't require root permissions.
You can download Clean Master for free from the Play Store.