How to add widgets on Android
How to add widgets on Android
One of the main features of Android is the use of widgets. A widget is a small application that shows interactive information directly on the home screen. Widgets let you customize the home screen and have become essential items for our devices.
Installing a widget is easy. We just need to access to the Settings menu and go to Applications. Once there, we shall see that there is a widget tab, which shows all the widgets available to us. If we press on one of them, it automatically appears to the home screen, where we can move it freely and place it where we want.
There are many widgets for all sorts of applications, but here you can find some of the essential ones to have in any smartphone.
Weather Widgets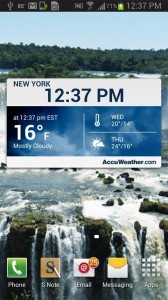 They are widgets that allow us to know all kinds of weather information. They can be used to check the current weather in a particular area or we can always have the weather forecast of the week. They can also provide all kinds of weather alerts, such as snow, ice, wind, etc., depending on the geographical area in which we are interested.
Clock and calendar Widgets
These widgets allow us to show the clock and calendar in the format we want. They are highly customizable and we can find very elaborate designs or minimalist styles. Depending on our preferences, we can also choose widgets that include extra features, such as alarms and timers.
Battery Widgets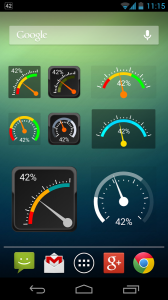 Battery Widgets are one of the most useful widgets we can have in our mobile devices. They provide a quick visualization of the battery charging and also give some additional information about its duration depending on the use, and the battery status (performance, temperature, etc.).
Besides, there are many more widget to customize our devices. You just have to find the ones that best suit your preferences!