Chinese National Day Amazing Promotion [ Exclusive Presell ] iOcean X1 & Great Discounts from 1949deal.com
iOcean is a smartphone manufacturer from Shenzhen, People's Republic of China. The company iOcean was founded in December 2008 and is specialized in the European market. In its catalog has a small selection of models that will satisfy most users, but until now it did not have a true low-cost device that was aimed at those buyers who watch the economy and above all do not need a brutal specifications in a smartphone. In response to these mobile users who demand this type, iOcean has created its iOcean X1, a colorful mid/high-range smartphone with a truly affordable price. Want to know a little more thoroughly everything IOcean X1 can offer? Well read a little more, we are going to review it. Also, you can find more information here, in 1949deal.com, where they have iOcean X1 in exclusive preselling and since October 1 till October 7 are celebrating the Chinese National Day with an amazing promotion and great discounts that we will show you in this article too.
iOcean X8
The specifications of this iOcean X1 are really good for the money you have and are located mostly in what we consider the current mid/high-range Mediatek chip devices. Thus, the X1 will be a new iOcean very iteresting for those users who are looking for a middle economic range option.
Especially surprising is the large 2650 mAh battery of this device, considering the size and resolution of the screen, ensure a very good autonomy. Moreover, despite this important capacity battery, the iOcean X1 is not excessively thick and get to keep it profile very worthy 8.4 mm thick.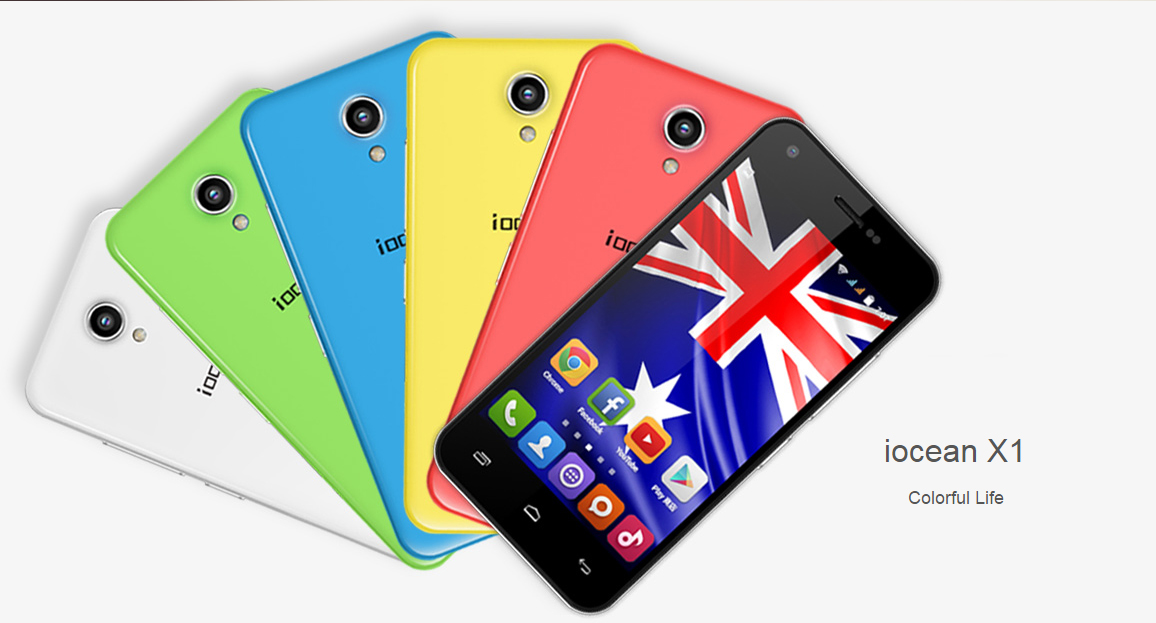 The result will be an attractive smartphone design in which the color is the protagonist. This new model is already available to buy in presell in this colors: white, green, blue, red and black. Seems to be a device designed for younger by this bid for colorful

Specifications:
Dimensions: 134.8 x 66 x 8.4 mm
Weight: 130 g (with battery)
SoC: MediaTek MT6582
CPU: Cortex A7 quad core, 1.3GHz
GPU: Mali-400 MP
RAM: 1 GB
Storage: 8 GB
Display: 4.5 Inch, Capacitive Touch Screen, 960 x 540 pixels, QHD
Battery: 2650mAh Battery (Bulit-in)
OS: Android 4.4.2
Camera: 5M front camera, 8M back camera
SIM card: Dual SIM Dual Standby (one micro-SIM card)
Wi-Fi: 802.11 b, g, n
USB: 2.0
Bluetooth: 4.0
Positioning: GPS
Language: English, Spanish, Portuguese (Brazil), Portuguese (Portugal), Italian, German, Dutch,French, Polish, Romanian, Turkish, Russian, Arabic, Indonesian, Malay, Thai, Vietnamese, Hindi, Hebrew, Simplified Chinese, Traditional Chinese.
In short, this iOcean X1 is pretty much a high-end. The screen is really impressive, it is a powerful smartphone, able to provide a good performance for a conventional use of the device and also for all kind of games and videogames. You can find the iOcean X1 in exclusive presell in 1949deal.com for only $112.99 (€85.61), in here (Free Shipping), and also you will find great discounts for the celebrating of the Chinese National Day with an awesome promotion:
Promotion & Great Discounts
Event Time: October 1–October 7
Rules:
(1) $1 off for all orders value from $0 to $60
(2) $2 off for all orders value from $60 to $120
(3) $3 off for all orders value from $120 to $240
(4) $5 off for all orders value over $240