Yotaphone has presented a new improved version
Yotaphone has presented a new improved version
Yotaphone is a hybrid smartphone of LCD and electronic ink released last December in Moscow. It features two screens, an LCD display on the front side and e-ink on the back.
This second screen offered several extra features such as reading SMS, notifications, meeting reminders, and information about calendar and time. However, it missed a touch screen to be fully functional.
In this second version, Yotaphone has improved all these aspects. The front screen is slightly bigger, 5-inch display, but the most interesting changes are in the back screen. This e-ink panel is now larger, 4.7 inches, and is fully touch-enabled. So the physical button is gone and the possible applications for this screen have increased dramatically.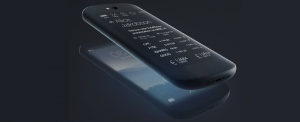 Now, not only can we receive notification, but we can also answer from the back screen. We will be able to reply to messages, accept invitations or write on social networks. In addition, the e-ink screen feature integrated lighting, allowing us to use in low ambient light.
Yotaphone has also greatly improved its hardware. It now has a 800 Snapdragon processor at 2.3 GHz, 2GB of RAM and 32 GB of internal storage. The 2550 mAh battery seems more than enough for a device which is able to save much consumption thanks to the e-ink screen. It will run Android 4.4 KitKat.
The only "bad" news is that the device does not go on sale until the fourth quarter of the year, so we'll still wait several months to get hold of one. Like the first version, it will be first released in Russia.
You can find more information on the Yotaphone's website.