Xiaomi unveils Redmi Pro with Android and Mi Notebook Air with Windows
Xiaomi Redmi Pro boasts technical specifications of medium-high range, with a good quality/price ratio, Full HD 5.5-inch screen, dual camera and 10 cores CPU. On the other side, Xiaomi enters the PC market with Mi Notebook Air, a cheap notebook laptop with more than good specs.
The first Xiaomi model, available in three versions (gold, gray and silver), is framed in an aluminum unibody chassis, the new Chinese smartphone is equipped with a 5.5-inch OLED screen with Full HD resolution 2.5D (with 1920 × 1080 pixels). Powered by a processor MediaTek Helio X20/X25 CPU with ten cores (octa-core Cortex-A53 and dual-core Cortex-A72) and a Mali-T880 GPU, is equipped with 3 or 4 GB of RAM and 32/64/128 GB of internal memory, expandable with microSD cards.
But the strength is represented by two rear cameras, offering a depth of field at DSLR level, according to the company: Sony IMX258 sensor with 13 Megapixels PDAF plus a secondary Samsung sensor with 5 megapixels and dual LED Flash. The basic model, with Helio X20, 3 GB of RAM and 32 GB of internal memory costs about 200 €. The next model, with Helio X25, 3 GB of RAM and 64 GB of internal memory, costs around 230 €. Finally, the flagship version, with Helio X25, 4 GB of RAM and 128 GB of internal memory, is available from 8th August at a price of around 270 €.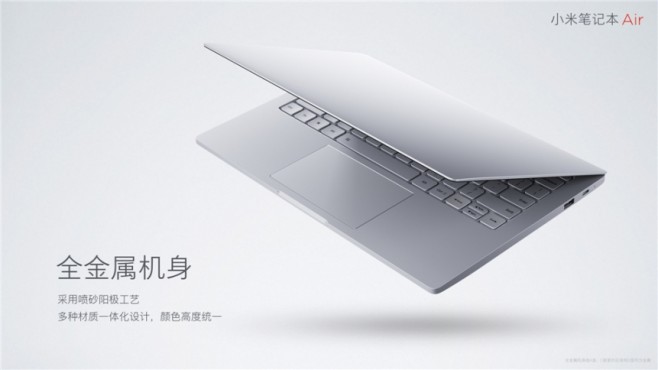 With Xiaomi Mi Notebook Air, the vendor enters the PC market with a notebook with Windows 10 OS. Equipped with a 13.3-inch Full HD screen, protected with hardness glass Mohs 7H, it is equipped with Intel Core i5 6200U chip, has various ports (USB Type-C, 2 x USB 3.0, HDMI), 8 GB of RAM (LPDDR4) and 9.5 hours of battery life with quick charge (50% in 30 minutes). A size of 14.8 mm, 5.9 mm in the frames, edited by AKG sound with Dolby Surround and backlit keyboard.
According to Strategy Analytics, Xiaomi entered the Top 5 of the smartphone market, while selling only in China, has 12% market share, but counting with the competition of Huawei and Samsung, also in low-cost with Oppo and Vivo. Xiaomi has entered the US market with a set-top box for TV, developed with Alphabet, Google's lead, and has launched its first drone for consumers, the economic Mi Drone 4K, with 5100 mAh battery capacity and camera of 1080p; in the portfolio it has also a tablet with Windows 10.
Xiaomi unveils Redmi Pro with Android and Mi Notebook Air with Windows