WhatsApp for Android updated . Share videos larger than 16 MB and new video editor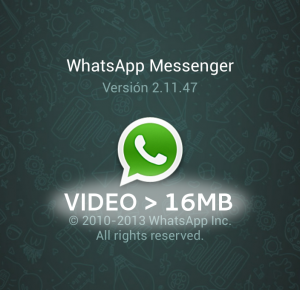 Share video larger than 16 MB
WhatsApp has been updated to version 2.11.47 and in the coming hours it will be available worldwide through Google Play Store. This new version removes the 16MB limit on the size of the videos that we could sent to a contact. This has been a problem for a long time for many users that even when a WIFI connection was available to send files of large size they could not share the big video file due to the limitation of WhatsApp . Now, this size limit is removed and we can send to our WhatsApp contacts videos of any size. Really, ​​the application will compress the video to convert the file to send to a size less than 16 MB.
WhatsApp Video Editor
But that's not all folks. This new version of WhatsApp includes a new video editor that can cut the video you want to share. When you share a video, if the file is very large and after being compressed by WhatsApp continues being more than 16MB, WhatsApp video editor will show the video editor within the app and we will be able to cut the video to make the size of it less than 16MB compressed . For example, if the video is 30 seconds long duration and the size is 45MB , WhatsApp will show us the video editor and we will have to cut it to 20 seconds of video duration . Therefore, we may have to send the video into two parts to our contact WhatsApp.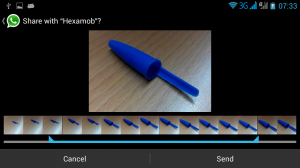 This new version will be available in the next few hours worldwide via Google Play but WhatsApp but the creators have given us a link for those who can not wait and want to have the new version 2.11.47 and want to start to share larger videos or edited by themselves. The link to the official WhatsApp allows you to download an APK that you can copy to your Android device (or download it directly on him if your are reading this from your Android phone or tablet). To install this APK remember you must enable Unknown Sources option to install it on your Android (Settings > Security > Unknown sources).