VVVVVV a retro amazing game has come to mobile devices
VVVVVV a retro amazing game has come to mobile devices
Many fans of platform games will recognize this title. In 2010 he was lauched for PC and Mac, with great critical and users success. He won the award for the most fun game in Indiecade, the most important festival of the sector. VVVVVV was created by Terry Cavanagh, who was also known for being the creator of Super Hexgon and Mavercik Bird.
The game's plot is simple. We have lost the crew of our ship, so we must find the six members who have been trapped somewhere in the space. To find them, we need to search for them in a grid of 400 scenarios. We will need to move along platforms avoiding deadly obstacles and trying to cross the scenarios that we will face as a sort of puzzle.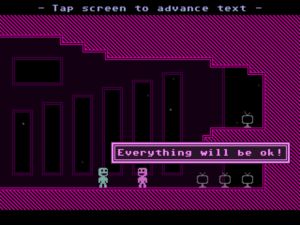 The controls are simple, rather than to jump to avoid obstacles, we change gravity, so that our character, Captain Viridian, "fall" up or down depending on where the gravity moves him.
We can move freely along the 400 screens of the game, and every few seconds, will find a checkpoint, allowing us to continue from that point when we die (an extremely common thing). The order in which we move do not matter as long as we find the 20 bright objects and redeem the members of our crew. Oh, and of course, we must overcome the 6 levels of the game.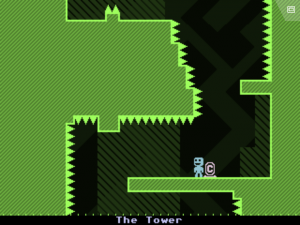 VVVVVV is incredibly hard to beat without dying a bunch of times, so that the checkpoints become virtually an indispensable help. However, for the more adventurous, there is a game mode where we cannot die, "no death mode", where we have to rescue our entire crew without dying once. In addition, there are other available modes such as "time trial" that challenges us to exceed six levels in the shortest time possible, or "Intermissions", where we will have special extra missions.
One of the most curious aspects of the game is that it is completely invertible. Each screen could be overcome flipping the scenario, only playing with the direction of gravity. That makes the game fully playable if the scenarios are reversed. The "flip mode" challenges us to beat the game again with the world inverted vertically.
https://www.youtube.com/watch?feature=player_embedded&v=FxuacwotoQw
Terry Cavanagh has also launched a small mini-game that appeared at the end of the PC version of VVVVVV, Super Graviton. This little minigame is free and can be downloaded for iOS and Android. VVVVVV is also available for iOS and Android, and it can be downloaded for € 2.45 from the App Store and the Google Play respectively.
You can find more information on their website.