The entire suite Hub+ by Blackberry arrives on Android
The new course of the Canadian company is betting everything on the software: with Google and Android, the productivity of the suite Hub+ aims to become the inseparable companion for each employee that respects. There will be a version with monthly fee and one free with in-app advertising.
After the success with smartphones and all the glorious times of a proprietary OS that has certainly not broken through, BlackBerry is finding a new financial asset not so oriented to the hardware but to what today really seems to have the gains with several zeros: it seems to be the apps sector. By partnering with Google and Android, BlackBerry releases today on Play Store its BlackBerry Hub+, a productivity application suite that provides targeted stock apps and big names in the industry wanting to impose as a must-have for any smartphone for business use.
In composing the package of Blackberry Hub we find Calendar, Password Keeper, Contacts, Tasks, Device Search, and Launcher Notes: productivity, but with an eye to security in data management. All Android smartphones equipped with Marshmallow will start to download and try Hub+ for 30 days without constraints: at the end, go ahead to full use for 0.99 cents per month or free but with the presence of advertising in the app.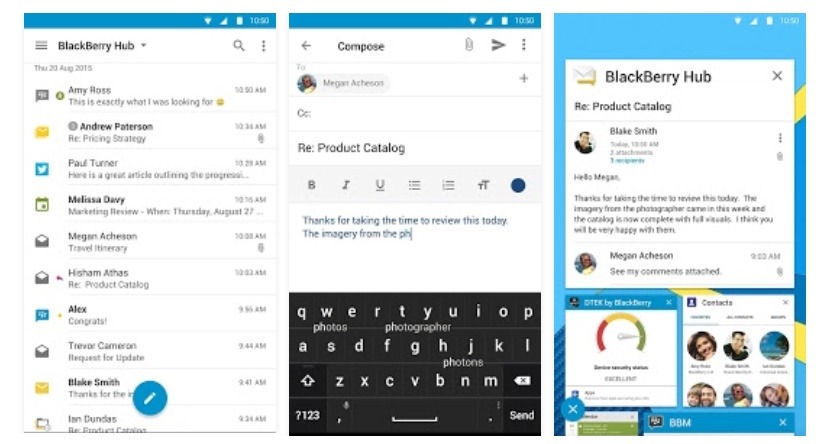 The premium version, available after the thirty-day trial, in addition to the items listed in the contact management tools, includes agenda, internal search engine to the device, notes, and the launcher. The latter allows you to organize and quickly access apps, widgets and shortcuts customizing the home screen of the phone. Besides being able to install the entire suite from Google Play, the Android Marshmallow smartphone owners can also choose to download individual applications.
The idea of BlackBerry – in the future – is to bring Hub+ also to Lollipop and iOS users, but for now -and in the light of the major change in strategy- the choice appears wise to focus on a target users at a time. Natively installed on the BlackBerry Priv and new model BlackBerry DTEK50, Hub+ is an application that aggregates a single inbox for e-mails received and that allows both to respond and send email, either to do other work, such as publish posts on social, respond directly to messages and calendar invitations, searching through messages and contacts on your mailbox or phone.
The entire suite Hub+ by Blackberry arrives on Android