The Asus ZenWatch has landed on the Play Store
Asus has lauched its smart watch, the ZenWatch has just appeared in the Play Store. It is a smart watch powered by Android Wear, the same operating system used by the LG G Watch, the Samsung Gear Live, the Sony SmartWatch 3 and the Moto 360.
It is a smart watch with a slim design. It has a slightly curved 1.6-inch squared AMOLED touchscreen with 320 x 320 pixels resolution and Corning Gorilla Glass 3. It packs a Snapdragon 400 processor running at 1.2 GHz, 512 MB RAM and 4 GB of internal storage. The battery is 1.4Wh.
The Asus ZenWatch uses a 9-axis sensor to monitor our physical activity and it is waterproof. As usual in this type of devices, the Asus ZenWatch also can show all kinds of statistics regarding our training, such as the number of steps walked, the calories burned, the heart rate and the duration and intensity of the exercises we have been doing.
We can set goals and check our progress from both the smart watch and the phone, using the Wellness app. The watch connects to the smartphone via Bluetooth 4.0 and it is compatible with devices with Android 4.3 Jelly Bean or higher.
In addition, we can control the phone camera from the ZenWatch, organize presentations and receive all types of notifications, information and reminders. It also includes the option to mute calls with a single touch of the screen, which we can be helpful in case the phone rings in a situation where we have forgotten to activate the silent mode.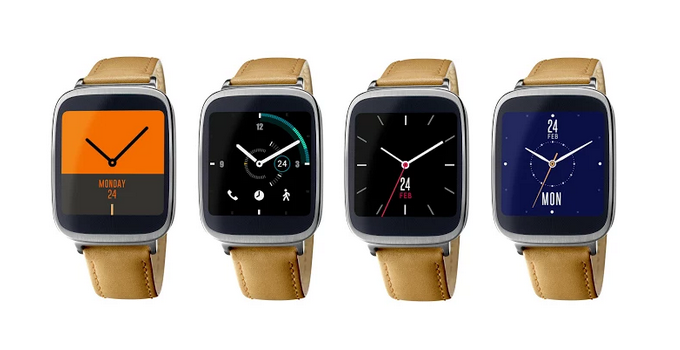 The ZenWatch is built with premium materials, with a metal body and a leather strap. It has many different skins to customize its appearance to match our preferences. The Asus smart watch has appeared in the US Play Store priced at $ 199, and it's announced that it will be available "soon". In other countries it is not available yet, although you can already find the information on the Play Store.
If you want to see more details of the new Asus smart watch, you can always check their website.