Sony launches a preliminary version of Android M for developers
Sony kicked off the week with the announcement of a preliminary version for developers of Android M for the Xperia devices. Designed to help developers to prepare applications and games for the next generation of Android, it is also a sign of things to come later this year.
With this move, Sony beats Samsung, HTC and other players in the coup. Even Motorola, which is usually quick to release updates of Android, has not made any noise on this front. Indeed, it is the first non-Nexus brand on getting this treatment. It is possible, of course, that most phone manufacturers just do not want to bother with a preliminary release to developers. Given that there is another version of Android M expected before the final version ready for consumption, maybe not worth the hassle of trying to keep up with Google and Nexus devices.
In any case, this announcement is a good indicator of the models that Sony plans to support the upcoming official launch of Android. There are a dozen phones and tablets able to take advantage of Android M package: Xperia Z3, Xperia Z3 Compact, Xperia Tablet Z3 Compact, Xperia Z2, Z2 Xperia Tablet, Xperia Z1, Xperia Z1 Compact, Xperia Z Ultra, Xperia E3, Xperia M2, Xperia T2 Ultra and Xperia T3.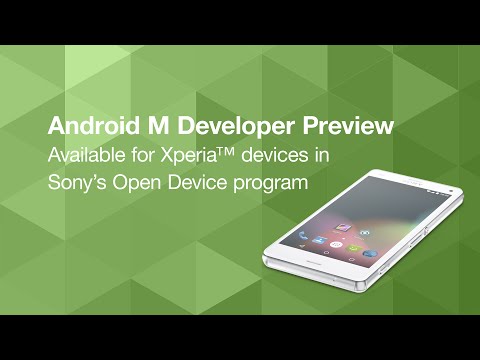 Android M is expected to choose a formal name later this autumn; potential candidates are Marmalade, Muffin and Marshmallow. Apart from data-centric developer, average users can find features like Google Now on Tap, support USB Type-C and Android Pay.
If you're a developer who wants to try the latest applications of Google, go to the Sony website to obtain documents and files. As for the owners of phones and tablet by Sony, just sit and relax for a couple of months until it is ready for Android M to be out of the oven.
Sony launches a preliminary version of Android M for developers