Socialmatic Polaroid, printer and camera all in one
Socialmatic Polaroid, printer and camera all in one
Everyone knows the classic Polaroid cameras, which allowed to take a picture and print it. It was a success at the time, and now the company wants to regain the spirit of those devices with the new Polaroid Socialmatic.
It is a unique device that joins an intelligent camera with a printer. It displays a classic look, quite similar to the Instagram icon, and has two cameras, a frontal 2 MP and a rear 13 MP one. It features a 4.5-inch touch screen and it's powered by Android.
The social aspect is ensured, since the Polaroid Socialmatic has built-in Wi-Fi and it is able to connect with our mobile devices via Bluetooth if we don't have Wi-Fi available. Sharing images is quick and easy, and we can edit them using all kinds of photo editing apps. Once they are ready, we can choose to save images using the internal 4GB memory or an SD card, share them on any social network or just print them.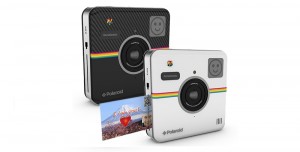 The Polaroid Socialmatic includes a printer that uses an inkless printing technology, the Zero Ink® and ZINK Paper®. This advanced technology uses heat to induce the crystallization of the molecules present on the paper (ZINK Paper), which acquire the desired color and form a permanent high resolution image.
When we have an image edited and ready to print, we just need to press a button, and it will automatically print a 2X3 inch full-color sticker-backed ZINK photo in less than a minute.
Polaroid has presented this curious camera at CES in Las Vegas, and announced its arrival in the markets this fall. The price is not known yet, but will keep an eye on it.
For more information: Polaroid.
Source: AndroidCentral.