Skype for Android is updated to schedule calls and new options
Skype is becoming by its own right into a complete platform that goes beyond simple communication between individuals and groups of people, as it also is incorporating features that facilitate collaboration between them. In this sense, Skype has just released a new version of its mobile application for the Android platform, which has two major developments: the function to schedule calls and integration with Microsoft Office.
With regard to the scheduling of calls, remember that last week, Microsoft updated Outlook for Android and iOS with the ability to schedule calls in Skype. Now this functionality comes directly from the Skype mobile app for Android. Users need only choose the contact they want to schedule a call and then go to the menu available in the upper right to select the programming of call.
And with regard to the integration of Microsoft Office, users can now open Office documents received through conversations, whether individual or group either without additional steps. To do this, users must have installed Office applications for Android on their devices. In case you do not have them installed, Skype will offer instructions on how to dispose of them. The new version of Skype for Android is now available in the Google Play Store for free.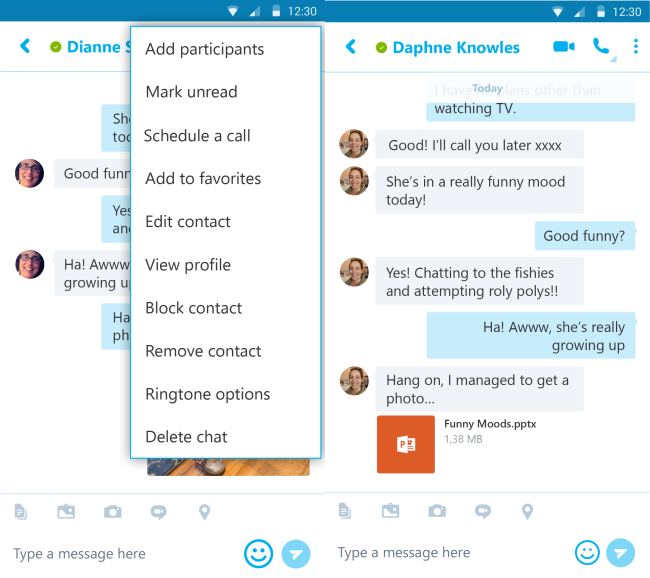 If you do not know how to add a new event on the calendar of Skype for Android, you must go to the conversation window of a contact, then tap on the menu and choose the third option: Schedule a call. When set, Skype will recommend you to use Outlook for Android. This application is an excellent email manager, which also allows managing the agenda. However, if you go to the 'more', you'll use your favorite calendar application.
On the other hand, any Microsoft Office file that is shared through Skype for Android can be opened in the corresponding application with a single tap. Needless to clarify that you need to have the applications installed on your device. The update is now available and you can get a free download of Skype for Android through Google Play.
Skype for Android is updated to schedule calls and new options