SketchBook Pro, the app for drawing's lovers
SketchBook Pro the app for drawing's lovers
Do you like drawing? Then you surely know SketchBook Pro, an application designed to unleash your creativity. This Autodesk's app was originally intended for tablets, but since the latest version, it is also compatible with mobile devices with at least 4-inch screens. For smaller smartphones, there is a special version, SketchBook Mobile, an adaptation of the main app.
SketchBook Pro is a graphics software with a user interface based on a radial menu, optimized primarily for creative sketches and drawings. It has a very clear appearance, we can use almost the entire screen to draw, and we have all the necessary drawing tools easily accessible, including over 150 different brushes. It also supports the use of notes, which can be easily included when reviewing the content.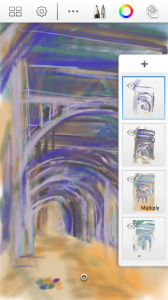 The implementation of pressure-sensitive features allows creating effects similar to traditional materials. It also includes tools like rulers, symmetries, customizable brushes, texture brushes and canvas rotation. SketchBook Pro lets you create layers (their number depends on the resolution of the drawing), that can be exported to Photoshop format (.psd). The images are saved in TIF format, but they can be exported later to JPEG, PNG and PSD formats.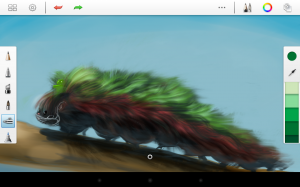 The application is available on iTunes and the Play Store for $2.29 . Requires Android 4.0 or later and iOS 6.0 or higher respectively (it's compatible with iPad). If you do not meet these requirements, Autodesks has another version adapted for mobile devices, the SketchBook Mobile .
There are also some less complete free versions for smartphones, SketchBook Mobile Express, and tablets, SketchBook Express.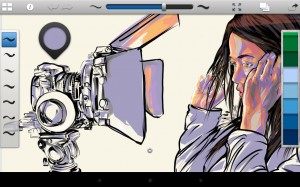 Autodesk also has an app dedicated to ink drawings, SketchBook Ink. This app, available for iOS and Android for $4.99, allows you to create high-resolution ink images and export them directly from the tablet. This app also requires iOS 6.1 or later and Android 4.0 or later.