Samsung Galaxy Note 10.1 2014 Edition vs iPad Air
Samsung Galaxy Note 10.1 2014 Edition vs iPad Air
Apple is still on top of the tablet market, but its opponents are getting closer every day. The iPad Air became recently available, and it has set the standard higher in terms of design, where Apple doesn't seem to have any real competence.
Samusung's Galaxy Note 10.1 2014 Edition is not going to beat Apple in the design department. The Galaxy Note is made of plastic, while the iPad Air has a fancy aluminum build. The Apple tablet is also more compact than the Galaxy note (9.45 x 6.67 x 0.30 inches and 9.57 x 6.75 x 0.31 inches respectively) and the iPad Air is significantly lighter than the Samsung tablet (the Apple's tablet weigh 478 g while the Samsung's one 547 g). You can notice easily the difference when you hold them, holding the tablets either with one or two hands.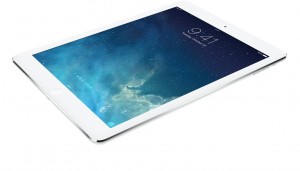 The Galaxy Note has an interesting advantage regarding the storage capacity: it has a microSD car slot. It means that you can expand the storage capacity if you need to, something that you can't do with the iPad Air.
There isn't much difference between the sizes of their displays, but there is a difference in their resolution. The iPad has 2048 x 1536 pixels (264 ppi), while the Galaxy Note 10.1 takes a step further with a resolution of 2560 x 1600 pixels (299 ppi). Both look very clean and detailed, but the Galaxy Note is clearly a bit better in this respect.
There is also a difference in the aspect ratio. The iPad Air is 4:3, perfect for web browsing and reading, while the Galaxy Note 10.1 2014 has a 16:9 display, more suitable for video playback.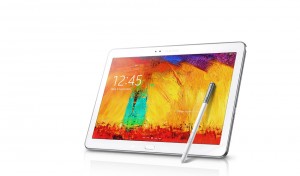 The most unique feature of the Note is the S Pen Stylus, which is very easy to write with and support pressure sensitivity. If you want the ability to hand-write or draw using a stylus, then this is a key feature of the Galaxy Note 10.1 2014.
Source: PhoneArena.