Samsung does not respect the Android guidelines
Apparently, when you check the battery level in your Samsung Galaxy Note 7, it will be shown with a green icon, despite the Android guidelines that include the obligation to use the color white for that.
There are several ways to check if your Galaxy Note 7 integrates a defective battery. Users can search for the IMEI code in the Samsung database or locate a black square next to the bar code on the package. There is also a third way, this time dedicated to software-: a safe battery is indicated with a green icon in the status bar. What's the thing with that? Nothing really important, but this change to the interface does not respect the Android guidelines.
A few days after the launch of the Galaxy Note 7 in the market, some users have reported an excessive overheating of the battery which, in extreme cases, can trigger an explosion. Samsung has found the cause of the problem, stopped the sales and started a recall campaign that provides free smartphone as replacement. Who will receive a new Galaxy Note 7 will notice some changes to the TouchWiz interface: the icon indicating the battery level, appearing in the status bar of the Always On screen displayed when the phablet is asleep, is now green.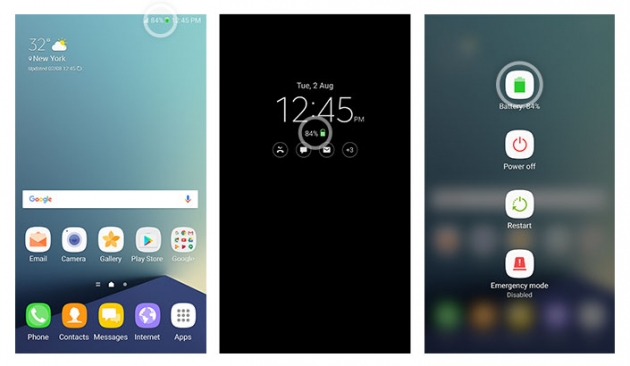 The color will change as a result of a software update, but that does not respect the Android guidelines. In addition to the minimum specifications and recommendations related to safety, in the Compatibility Definition Document (CDD) also indicates the conditions to fulfill in order to receive approval from Google. One of them provides that the battery icon is in color white.
Samsung has yet obtained the authorization by the company from Mountain View. Hiroshi Lockheimer, Google SVP of Android, Chrome OS and Google Play has confirmed on Twitter that the Korean manufacturer can use a green icon, as a white frame ensures compliance with guidelines. In practice, because of extraordinary circumstances, Google has granted an exemption to Samsung.
Samsung does not respect the Android guidelines