Royal Revolt 2 is here!
Royal Revolt 2 is here!
Royal Revolt was a great freemium strategy game that was able to find a good balance between the in-app purchases and the free game mode. The second version has been recently published, which extends far beyond the capabilities of the first release and keeps the freemium format.
The first part starred by a prince. Now this prince is the king and he has to protect and expand his kingdom, fighting with the other kings of neighboring territories.
Royal Revolt 2 is a reverse defense game, in which we lead the attacking army and we try to plunder the neighboring kingdoms for gold. The big news is that all realms are controlled by real players, and we compete with them in PvP mode. That means that our castle is under attack by the other kingdoms too, so we need to create a whole line of defense to protect our castle.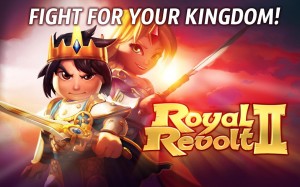 The game keeps the same 3D graphics style that its predecessor, with an elegant and attractive design. The touch control is similar too, with simple movements to build defense towers and lead the army into battle.
The buildings need improvement to get more features, and are linked between them, so we have to update them all to keep improving, both in defense, attack, and resource production. Construction time can be accelerated and improved with in-app purchases, so the pace of the game depends strongly on what we want to pay. You can play for free but it requires some patience if you don't want to spend any money.
Another new feature of this second version is a map editor that allows designing a battlefield. You can download Royal Revolt 2 from the App Store and Google Play respectively.