Puls, the smart wristband from Will.i.am
Will.i.am has officially unveiled its smart wristband, known as Puls. This is a difficult device to classify, because its creator claims that it is not a smart watch (or a smart wristband).
The bracelet is able to play music, monitor your physical activity, and supports the major social networks like Facebook, Instagram and Twitter. It has GPS, accelerometer and pedometer and can answer emails, text messages and even make phone calls. All this without requiring to be connected to a smartphone.
The Plus has been created by the company i.am+, owned by the Black Eyed Peas singer. It is designed to operate completely autonomously, without requiring the assistance of any smartphone. It has its our own SIM card and currently works with AT&T in USA and O2 in UK.
In the next video presentation you can see the basic operation of this smart wristband, as well as most of its applications.
On the technical side, the Plus has a curved touch screen that fits our wrist. It packs a Qualcomm Snapdragon processor and has 1 GB of RAM and 16 GB of internal memory. It has Wi-Fi connectivity and 3G, so it can perform all the functions typical of a phone. There is no information about the battery and autonomy yet.
Will.i.am has unveiled the new device highlighting the possibilities offered by its unique style design. In addition to the device, Will.i.am's presentation also showed a set of accessories to complement the Puls. The oddest thing was probably a jacket capable of recharging the Puls battery when the sleeve touches the device. Will.i.am ensures that each jacket can provide two and a half days of battery for the Puls. They also presented a backpack speakers and a pair of shoes able to measure our weight and count the number of steps we take during the day.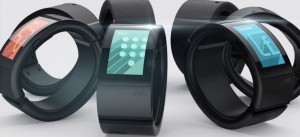 There is no information yet about how much the Puls will cost, neither about any releasing date. However, it will probably hit the market before the end of the year. Standard plastic straps are available in black, white, pink and blue. Furthermore, i.am+ offers two exclusive models, one solid gold and another one also gold but with diamonds.
If you are interested and want to be informed about its launch, you can log-in to receive the latest news directly to your email.
For more information, you can check i.am+ website.
Source: TheVerge.