Project Ara shows signs of life after a while
Google has among its large range of projects one really interesting. We talked about Project Ara, where the project is intended to launch a modular smartphone with which end with obsolescence.
The fact that a smartphone is built by parts makes in case you need to renovate one, we will not opt for a whole device, only the component that interests us to improve. With this we can also save money, since a particular piece not have the same value as a complete device. What we began to surprise is that after the departure of Puerto Rico made its first test pilot for the project, we stopped receiving news about this project.
In the official Twitter account of Project Ara it has been present speaking well above the future of the company and that next week they will have interesting news. For now it is known that the project does not say "goodbye" to Puerto Rico, but a "see you" and there will be a shift in the pilot project to check how it works in other parts of the same project.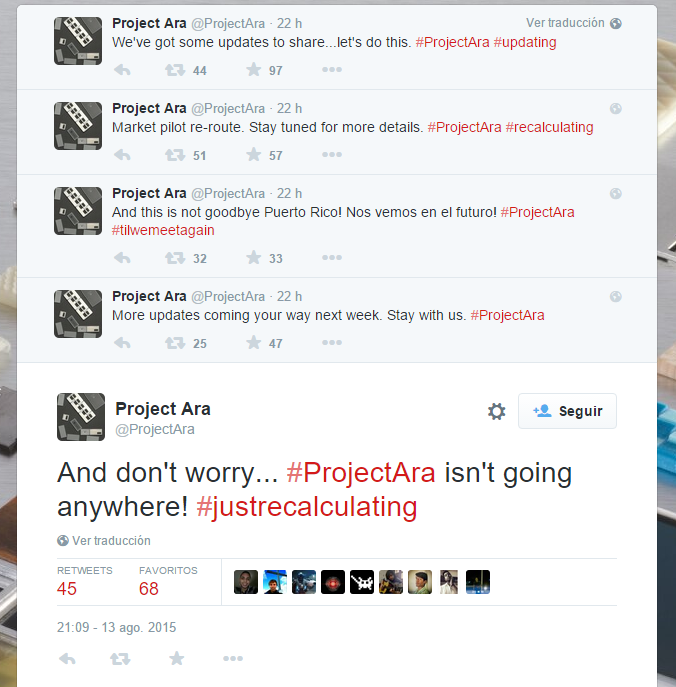 With regard to the news that awaits us next week we have no idea what it can be. It has been so long since the first prototypes that could be even a date for marketing or just some information on the progress of the project were. Until next week we will not know anything.
No doubt Project Ara is something that many users are waiting impatiently. The possibility of a smartphone as it is very tempting especially when you can customize each piece to make it unique. We know that the first prototypes work. And if all this we add the last tweet in their account where it's clear that the project is not over, it can be a good omen for the near launch.
Project Ara shows signs of life after a while