Professor Baboo and the Chamber of Chaos
Professor Baboo and the Chamber of Chaos
In November, Professor Baboo was released, a classic adventure game set inside a pyramid. A few days ago, a premium version reached the market, with a 1000 gems bonus and a guide included that will help us solve some of the mysteries of the pyramid.
The game is starred by archeology professor Baboo, the typical absent-minded professor who spends his days trying to impress his favorite student, Dorothy. She is an adventurous and determined student, and the class nerd. Teacher and student get trapped inside the pyramid of Khafre, and they will try to escape after receiving the curse of Anubis.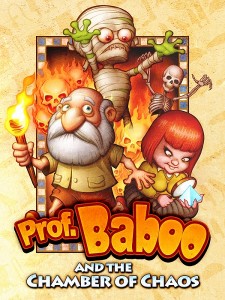 Inside the pyramid, our heroes must explore different scenarios and unfold the secrets hidden in the pyramid to break the curse and escape. Inside the labyrinth, they will encounter all kinds of dangers, from rats and snakes to the Mummy. We have to decipher the maps we find in the countless rooms and passages, and we will need the help of different objects that we find around. And, of course, we cannot leave any secret chamber unexplored. The most enigmatic room is the Chamber of Chaos, where we have to solve the secret of the pyramid.
The game has been developed by Joyco Games, an independent developer that has tittles like Draky and the Twilight Castle, Monstermania , Candy Bombs , Galazer or Zip Trix, among others. Joyco Games develops and publishes mobile games mainly for Android, Nokia and BlackBerry platforms. It specializes in casual games genre, simple games designed to reach a large audience.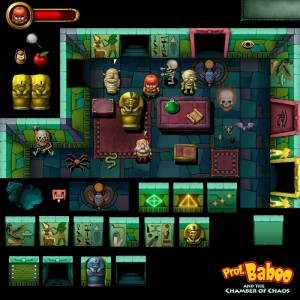 Professor Baboo is available for $0.99 or $1.30 if you download the Premium version. You can download it from Google Play, Amazon App Store, BlackBerry App World, Nokia Store, Samsung App Store, Opera Mobile and Nook App Store.