Possible images of the Xiaomi Mi5
The next January 15th, the Chinese company Xiaomi will celebrate an event that is raising great expectations worldwide.
Xiaomi is expected to present several devices, including theRedmi2, new features for the MiBox and they may possibly use that event to show the new flagship of the company, the Xiaomi Mi5.
Until now they are just rumors, but some pictures of the new smartphone from Xiaomi has just been published, facing one of the most important test, the AnTuTu Benchmark.
What is AnTuTu Benchmark?
Mobile technology is advancing at an incredible rate, and each year we find new devices with better specs. When we want to analyze a new product, we have to face a lot of numbers and technical details that do not always translate directly into improved performance.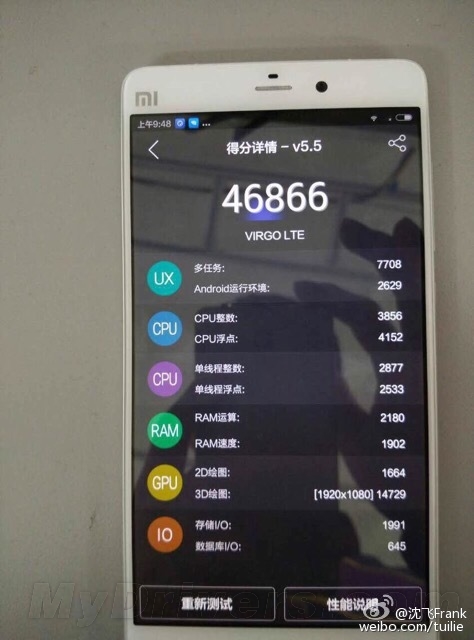 The benchmark test is designed to measure the performance of the devices, analyzing features such as the processor speed, the RAM efficiency or the performance of the battery. There are many different tests available, and the results can be slightly different between them, although one of the most popular for Android smartphones is the AnTuTu benchmark.
Some images of a new Xiaomi device facing this test has been leaked, and the result is remarkable. The new Mi5 (or Mi 4s, is not known yet how it will be called the new flagship of the company) has managed to get almost 47,000 points, which would place him among the three best devices available nowadays.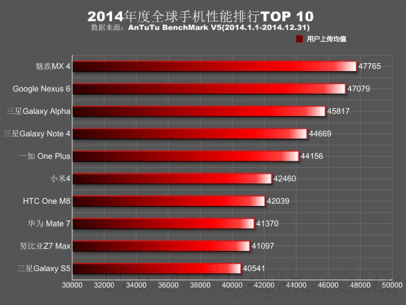 Finally, the device shown in these pictures has a 801 Qualcomm Snapdrabon processor running at 2.5 GHz, and it is expected to include also 3 GB of RAM and an Adreno 330. On the backside, ther are the camera placed at the the upper left corner, and the dual-LED flash.
Source: Gizchina.