Playing Game Boy's games on a smart watch
All of us who had lost countless hours of our lives in front of a Game Boy remember with nostalgia some titles that have become classics. Tetris, Super Mario or Pokemon marked an era and have left some memories buried forever in our mind.
Nowaday, games have amazing graphics, unparalleled definition and even the soundtracks are amazing. However, pixelated images and the 8 bits music typical of those games still move us.
Corbin Davenport has gone a step ahead and has managed to install these classic games on a smart watch running Android Wear. This young developer has used the platform of Android Debugging Bridge (ADB) to install and run a collection of the most famous Game Boy's games. To play any of them, he simply uses a wireless controller connected to the smart watch.
Installing these games is just another example of the possibilities of those devices. A current smart watch has the same performance of a computer from several years ago, and all that power can be used in many ways.
Corbin had demonstrated not long ago that you could also install Minecraft Pocket Edition on a Samsung Gear Live and get it to work reasonably well. While these games are not optimized and aren't designed to run on this device either, the young developer has proved the potential they offer. Video game companies have probably already fixed their attention to smart watches, since every thing points to their next expansion, which has barely begun.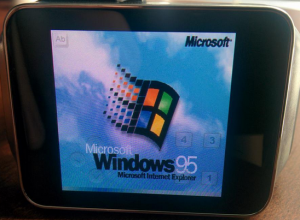 Interestingly, a few days ago Corbin published a video on YouTube where he boots Windows 95 on a smart watch, and on October 7th, he published on his blog the detailed instructions about how to install Android applications using the ADB. If you like to play with your smart watch, you should definitively check his blog, where you can find a guide with all the steps required to install and run any app potentially compatible with an smart watch.
Basically, first you need to install the ADB on your computer and then turn on the debugging mode on the smart watch. To enable it, you just have to tab repeatedly on the "Built number" option to activate the developer mode. Once activated, all you have to do is access to that menu and you will see the option to turn the "ADB debugging" and "Debugging over Bluetooth." Now you can install apps from the apk files. The only limitations are apps that require internet, action bar or video players.