Philips SpeechAir is the first voice recorder with Android
Probably not many readers are using professional voice recorders to record audio, interviews, reviews or other things during their work or leisure. It is a very vast world that today might seem a bit old-fashioned but it is impossible not to consider if you want to get professional results.
Philips took an idea so wacky as seemingly brilliant: officially named SpeechAir, it is the first Android professional voice recorder. This device with the green robot OS at first glance seems a smartphone with a design a bit more orthodox, but it is actually a super-equipped voice recorder. It is equipped with three microphones that are useful for different uses. The first is a 360-degree microphone, the second is a directional microphone and the third is a microphone useful to make VOIP calls. Philips SpeechAir is the first professional voice recorder with Android operating system and built-in camera with flash. It is a very unique product, whose quality must be evaluated compared to competing devices without operating system.
But let's see the other technical features that do not affect the recording and audio. Philips SpeechAir Android recorder is equipped with a display with IPS technology that displays images at a resolution of 480 x 800 pixels, equipped with Gorilla Glass protection. In the hardware section it has a dual core Cortex A9 at frequency of 1.6 GHz, 1 GB of RAM and 16 GB of internal storage. It also includes a rear camera with a resolution of 5 megapixels, and, of course, WiFi connectivity and Bluetooth.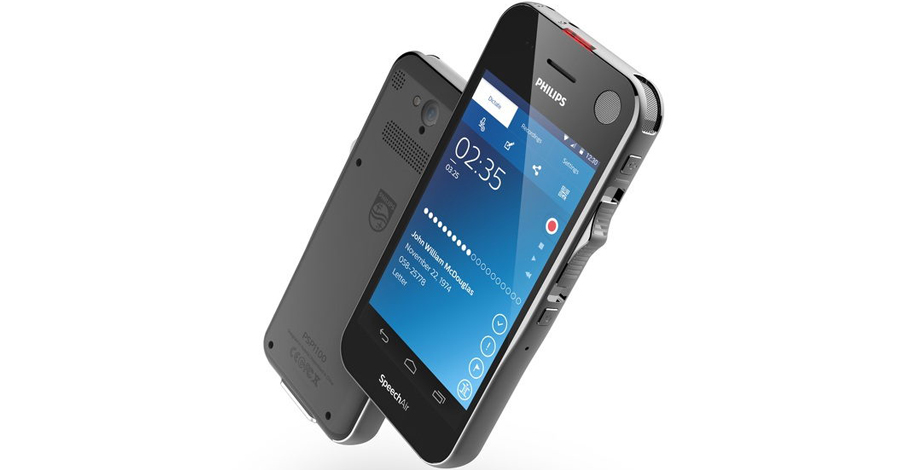 However, it is unknown whether this will be a Google Play Store app for download or how it will work, but we know the Android operating system version is 4.4.2 KitKat. With the purchase of this Android recorder you receive in addition to wiring also a pair of headphones and a docking station. The manufacturer has also released an SDK for developers to create apps. Unfortunately we not yet know the price and availability.
The most striking part of the Philips SpeechAir resides in its professional microphones, for superior sound quality compared to smartphones and an antibacterial coating that makes it ideal for use in hospital environments. Currently we do not have much information about it, but you can check the Philips website for more details.
Philips SpeechAir is the first voice recorder with Android