Pebble Steel, elegance comes to Pebble
Pebble Steel, elegance comes to Pebble
Pebble is the smart watch with more followers and a greater community behind. However, one of the major criticisms he had received was its design. The company decided to meet this challenge and at the annual meeting in Las Vegas unveiled its new model, the Pebble Steel.
The Pebble Steel is a smart watch designed to receive all kinds of notifications on our phone. The screen is e-ink, not tactile, and it can't interact in any way with the notifications we receive. All configurations is carried out through the smartphone, where we can install multiple applications compatible with Pebble.
The new version offers a completely new design, with a metal strap and a stainless steel frame and leather that give it a more elegant look.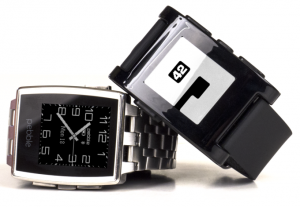 Taking advantage of the new aesthetics, Steel Pebble has also experienced significant improvements in its hardware, which together with the new material framework has significantly increased the price.
Among the biggest changes we find a new charger, a screen with Gorilla Glass, a fingerprint-resistant layer and a charge indicator LED. All other specifications are maintained as in the previous Pebble model, and we are now facing a smart watch with a 1.26-inch e-ink screen, Bluetooth 4.0 and ARM Cortex- M3 processor. The device is water resistant and comes with four possible straps, two metal (a typical metallic stainless steel and a one black mate, both now exhausted) and two leather ones.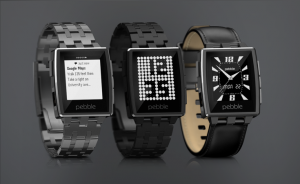 Thanks to the e-ink screen, the battery lasts for 5-7 days of normal use. The Pebble is compatible with iOS and Android devices and has its own operating system, currently working under version 2.0.
One of the main criticisms raised is its price, because if the first version cost about $150, the Pebble Steel costs around $250.
More information at Pebble's blog.