Oppo's N1 on sale in China
Oppo's N1 on sale in China
The latest flagship device from Oppo, the N1, is officially on the marked. Its price is CNY3498 (about $574) but the stock is quite limited (there are only 10,000 available units).
The N1 has a 5.9 inches, full HD (1080p) display and it's equipped with a 1.7 GHz Snapdragon 600, 2 GB of RAM and 16 or 32 GB of storage. It is powered by an impressive 3610 mAh battery. The N1 also has a 13 MP camera, and it's the first mobile camera fitted to an adjustable hinge.
Oppo says that the N1 has the first camera to feature a six physical lenses design in an Android smartphone. These configuration gives a clearer images while eliminates any distortion. It also has the latest generation stacked CMOS sensor, an upgraded type 1/3.06 imaging module and f/2.0 wide aperture, which lets more light in, so you can acquire great photos even in dark environments. And all this optics is included in a rotating camera with a dual-mode flash designed to work for front and back shots. With these specifications, the N1 is going to compete directly with well-known smartphones like the iPhone 5s, Lumia 1020 and Xperia Z1.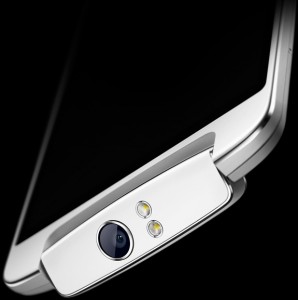 The Oppo N1 also comes with "O Click", a completely new portable accessory that can clip to a keyring and thus control de device though Bluetooth. The idea is that you can use this device to sound an alarm or to take shots remotely using the phone's camera.
Another feature displayed by the N1 is the rear touchpad. In its back panel, there is a touchpad that allows us to scroll by moving our finger on the back.
There isn't any information regarding its possible commercialization to markets outside of China, but if we take into account Oppo's lasts successes, we probably will see some unlocked model arriving to different countries.
More information at Oppo.
Source: Oppo Store.
Via: The Next Web.