Oculus Rift comes to Android mobile gaming
Oculus Rift comes to Android mobile gaming
Oculus Rift has just announced that the virtual reality headset is coming to Android mobile gaming. CEO Brendan Iribe has announced today at GamesBeat 2013 that they are working on a mobile virtual reality headset, and it will be using an Android processor.
The good news is that the company announced the launch of the mobile version in 2014, practically together with the PC version, so it will be available much sooner than expected!
The only apparent drawback is that the headset is only available to Android users. The lack of Apple support could be related with the higher compatibility of Android with the gaming devices. However, the Oculus is available to Mac and PC users.
Oculus Rift is a virtual reality headset designed to work either with PC and Macs. It was first introduced via Kickstarter last summer (2012), where it widely surpasses its funding goal, obtaining more than $2.4 million last year. This new virtual reality headset offers a new way to enjoy a game, as the wide and HD display provides an immersive experience.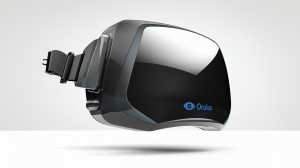 One of the aims of the project was to develop a product that many costumers could afford. Currently there are some virtual reality heads, but either they lack the technical features required or it cost a small fortune (up to $20.000). Oculus Rift goal is to develop a device with the highest quality at an affordable price for an average gamer.
But gaming is not the only potential market for the Oculus. TV and movies in virtual reality home theaters can also be a possibility. However, at this point, Oculus Rift is still under development. There are a number of dev kits to developers, but Brandon Iribe had already announced in a interview that the they expect to launch the Oculus Rift next year.
More information at: Oculus.