Now you can hide the Last Seen information on WhatsApp
Now you can hide the Last Seen information on WhatsApp
WhatsApp has been the news of the week due to the acquisition of the company by Facebook. WhatsApp announced on its blog that from now on, nothing would change, and so it seems.
In the WhatsApp's website is now available a new update for Android devices that offers several options to configure the privacy settings. In this new version, we can change the option to show the Last Seen information. So far, all our contacts knew when we last connected, but now we can hide this information and choose which contacts can see it.
The option is enabled by default, so if we want to regain some privacy in this sense, we can now restrict who sees it. When we hide this information to any contact, he will hide his from us, so we will not be able to see his Last Seen information.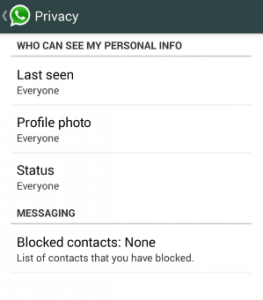 Other aspects configurable now are the profile picture and the status. With this version we can decide who can see our profile picture: Worldwide (by default), our contacts or nobody. The same happens in the case of the state, which can be restricted to the same three cases than the profile picture or the Last Seen information.
This version is not yet available in the Google Play, but it can be downloaded directly from the WhatsApp's website. To install it, we need to enable the option to install files from unknown sources, which will allow us to run an APK file.
Once installed, we will have WhatsApp updated to this latest version and we can just go to configure the privacy options. We can find all these options in the Privacy section within the settings menu.
Sources: XatakaAndroid, ghacks.net