Nexus Wireless Charger
Nexus Wireless Charger
A Wireless charger it's an attractive accessory available as an option in some smartphones and tabets. In some cases, you will be able to add a wireless charger to a phone (when the phone allows it), but most of the traditional ones don't support wireless charging.
The last Google Nexus, all support wireless charging. The Nexus 4, Nexus 5, and 2013 Nexus 7 can use any charging pad that supports the Qi, but Google sell its own charger for $50. The charger is a rather small square (2.36 inches on each side) with a thickness of half an inch, and it weighs 3.7 ounces. On the lower part, there is a sticky adhesive material that keeps the charger stable on any surface, preventing sliding. However, be careful that the sticky material needs to be cleaned from dust in order to keep its functionality.
Even though there isn't any mention about the Qi standard, it's what the charger is using, so it should work fine with any other Qi-enabled phone. To start charging your device, you just need to place it on top of the charger and it will automatically start charging. All Nexus devices make a distinctive notification sound when the charging starts to let you know that the charging has begun.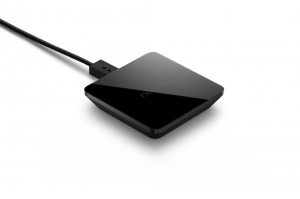 Wireless charging is not the most efficient one. Both the Nexus 5 and Nexus 7 draw more power through a micro USB charger than the wireless one, what was expected, as wireless charging is always slower than through a cable. For example, the Nexus 7 takes about 3 hours to charge using the power adapter, but needs six hours for the same charging with the wireless charger. In general, wireless charger is less efficient and takes longer.
You can purchase the Nexus Wireless Charger form the Google Store for $50.
Source:
ArsTechnica
.